Posted on October 20, 2009 by Monica Valentinelli
On Saturday, October 17th, FlamesRising.com was on hand to celebrate the launch of LITTLE FEARS during Madison Games Day 2. We had a great turn out and several people were on hand to play games, eat pizza and take lots of pictures. There are quite a few pictures and recaps floating around; you can see a number of photos through the Madison Games Day Yahoo! Group taken by Kay Preston from Team Preston Illustrations. We'll also be on the lookout to add more photos to our Flamesrising.com Fan Page on Facebook, too.
To celebrate the birthday of LITTLE FEARS: NIGHTMARE EDITION, there were two really awesome cakes on hand. This first picture is of LITTLE FEARS game designer Jason L Blair, who posed above a Cthulhu cake created by Mad City Cakes. (Yes, the cake really did bleed when we cut it and yes, those are hand-crafted stones, books and tentacles on the cake.)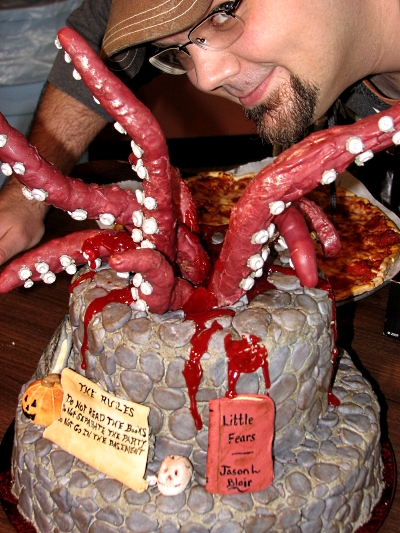 This second cake was brought in by Jason's lovely wife. The cake decorator mimicked the font on the LITTLE FEARS cover and added some additional touches to give it a Halloween feel.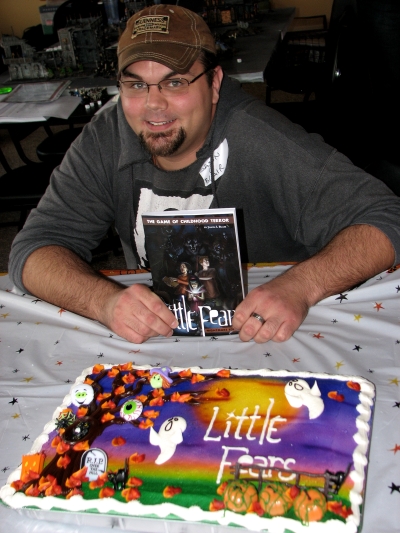 Congratulations to Jason on the release of his new game. The party was sweet! (Literally.) If you're interested in getting involved in the next Madison Games Day, be sure to sign up for the Madison Games Day Yahoo! Group where you can find more great pictures and interact with other people local to Madison.
Hope everyone has a fun Halloween! Ours has already started!
Tags | cthulhu, little fears, madison