Posted on October 10, 2010 by Flames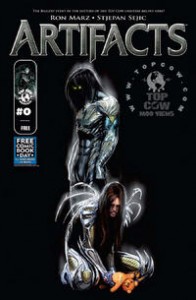 Have you been following our Top Cow comic reviews, interviews and previews here on FlamesRising.com? Our staff reviewers have been impressed with Top Cow Productions, Inc. and their ability to produce quality comics like WITCHBLADE and WANTED, because they are filled with great stories and impressive artwork. Their horror comics include THE DARKNESS and a new comic dubbed BERSERKER, which crosses Norse mythology with violent fighting and heroic action.
From now through the end of October, save twenty percent off your purchase of Top Cow digital comics with the coupon in this post! To take advantage of this sale, simply visit digital comics retailer DriveThruComics.com and get 20% Off any and all Top Cow titles!
Remember, if you want to sample any of the comic series available through DriveThruComics, there are several debut issues you can download for free, too. Have no idea what digital comics you want to download? Here's a recap of some of the articles we've posted on FlamesRising.com for you to enjoy.
If you're curious about buying digital comics from Top Cow Publishing, be sure to take advantage of this deal before it expires on Halloween.
Tags | comic books, digital comics, horror comics, top cow