Posted on May 29, 2010 by Flames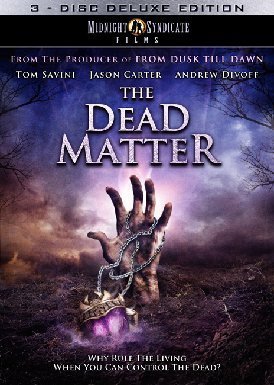 Midnight Syndicate Films has announced plans to release a special edition of The Dead Matter DVD that will include two bonus CDs by gothic Halloween music artists Midnight Syndicate. It will be available at all Hot Topic stores nationwide on July 30th. The specially-priced set will include The Dead Matter DVD, the Original Motion Picture Soundtrack CD by Midnight Syndicate, and a new Midnight Syndicate 13th Anniversary greatest hits CD entitled Halloween Music Collection. Midnight Syndicate Films has also released a new official trailer for The Dead Matter movie which can be viewed at the film's revamped website, TheDeadMatter.com and YouTube.
The Dead Matter: Original Motion Picture Soundtrack CD contains the score composed by the film's director, Edward Douglas of Midnight Syndicate, as well as several limited-edition remixes of Midnight Syndicate songs and other music that appears in the film from bands like Lazy Lane, HipNostic, and Eternal Legacy. Midnight Syndicate's Halloween Music Collection CD features over 60 minutes of songs hand-picked by Edward Douglas and Gavin Goszka to celebrate the band's first 13 years. Both new CDs will also be available at Halloween retailers nationwide in August.
— 5/26/10
The Dead Matter trailer on YouTube: http://www.youtube.com/watch?v=liAifLs_8zk
The Dead Matter motion picture: www.TheDeadMatter.com
Midnight Syndicate Halloween Music Gothic Soundtracks: www.MidnightSyndicate.com
Hot Topic – Everything about the music: www.HotTopic.com
About The Dead Matter movie:
A guilt-ridden young woman desperate to contact her deceased brother discovers a powerful ancient relic that controls the dead. Her dark obsession drags her into the tangled world of two warring vampire lords (Andrew Divoff of Lost, Wishmaster and Tom Savini of Friday the 13th, Dawn of the Dead) each with his own sinister plans for the artifact and a vampire hunter (Jason Carter of Babylon 5) who will stop at nothing to destroy it. This chilling gothic dark fantasy co-produced by Robert Kurtzman (creator of From Dusk Till Dawn, KNB FX) features a haunting score by Halloween musicians Midnight Syndicate. It's a mix of classic horror themes with modern twists and a touch of dark humor that will keep you on the edge of your seat.
Tags | ghosts, midnight-syndicate, modern-horror