Posted on July 29, 2010 by DecapitatedDan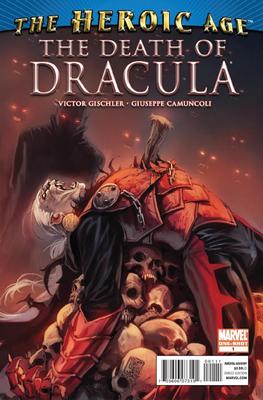 Issue: Death of Dracula #1
Writer: Victor Gischler
Artist: Giuseppe Camuncoli
Colors: Frank D'Armata
Letters: Jeff Eckleberry
Publisher: Marvel
Release Date: June 2010
Pages: 48
Price: $3.99
"He is the legendary Lord of the Vampires. Dracula. Who would dare attempt to overthrow him? Only Dracula's son Xarus, a ruthless and clever upstart with the bold ambition to unite all the world's vampire sects under one flag. But Xarus's older brother Janus isn't sure he likes the idea of a new regime and seeks allies to oppose Xarus. The ultimate battle to control Earth's Creatures of the Night unfolds, with the future of the vampire race and possibly the Marvel Universe at stake."
Artwork: 3.0 out of 5
I wasn't super blown away by the artwork in this story. However it was strong enough for me not to hate it. When it came to character designs, I don't know why Dracula was changed at all. Hell he looked like he was one of the Voltron bad guys. Sure it would have been strange to see all these other cool vampires and then some dude in a cape, so I will give them that, but why not just update him to look like he is the most intriguing looking man in the room. Almost like a president. So aside from that the Claw group was cool looking. The overall looked worked, I guess it was just the colors, it just seemed flat overall. So not this issues strong point.
Story: 4.5 out of 5
Now I have to sit here and tell you how good something was, but you probably won't get a good end to it. The story here starts fast. It's just BAM, were all meeting and now the leader is dead. If you consider that a spoiler, read the title. So from there Gischler just took all of the pieces and started to put together a fantastic book. Full of strong plot points and a cool gang like feel it is very solid. The dialogue is spot on and really explain the characters, of which I knew little about. What it boils down to is a great one shot that will lead into this new vampire era at Marvel.
Dying Breath: 3.5 out of 5
So the art was okay, and the story was fantastic. Problem is I want to see this play out now, inside of itself. Meaning I want a mini series that will have the vampires settle this between themselves. Spreading this out into the Marvel Universe just doesn't sit right with me. After what I read I don't see how Wolverine can have anything to do with it. That is why I think something good is being wasted yet again. So just in terms of this book. It's great, I recommend it highly, but hopefully I am wrong on how it all plays out. I just know it's something I am not looking forward too, because it will make this build up a big let down.
If you would like to buy or know more about Death of Dracula #1 you can find it at your local comic shop or at www.marvel.com.
Review by Dan Royer
Tags | dracula, drivethrucomics, marvel comics