Posted on May 11, 2019 by Travis Legge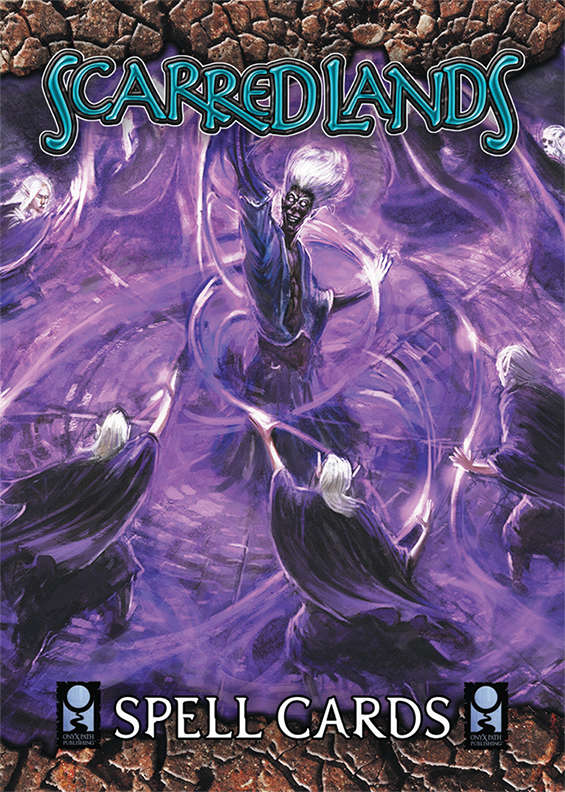 The Scarred Lands Spell Cards for 5e were just released on DriveThruRPG. I had the pleasure of working on these cards as the developer as well as performing layout duties. The process of crafting these cards presented a number of unique challenges, which required a wide array of skills.
The first, and perhaps biggest challenge of putting together the Scarred Lands Spell Cards was summarizing the spell effects to fit onto the cards. The card design allows for about 200 words per spell. For a little over half the spells in the Scarred Lands 5e Player's Guide, this was more than sufficient and the spell could be ported over to the card with no changes to the text. The remaining spells were a bit more challenging.
In order to rephrase spell effects for placement on a card, I had to carefully evaluate each word of the spell. Fifth Edition OGL is well designed and elegant. Part of that elegance comes from the specificity of word choice and word order in how systems interact with one another. That specificity needed to be preserved in every spell. Whether or not an effect could be summarized to fit on a playing card mattered very little if the effect was broken in the translation. This led to more than one tight fit, but fortunately I had another set of skills to draw from.
Working from a beautiful template provided by Michael Chaney, I was able to do the layout in InDesign, which gave me direct control over text placement and spacing. This is not a luxury, nor responsibility, one often has when working strictly as a developer, but I was grateful for the ability to bring that skill set to bear and for the trust placed in me by the Onyx Path graphics department in doing so. This let me test drive a few word and spacing choices and gave me the ability to course correct card by card in real time, rather than turning in drafts of text, waiting for the layout process, then making further adjustments when it became clear something did not fit. It was a gift, and it led directly to the incorporation of a graphic to represent Concentration in spell duration, rather than typing out the word.
All told, I was very fortunate to have such amazing material to work with, a permissive framework to work within, and the skill set to maximize my efforts in crafting these spell cards. I recommend any writer out there dip their toes in the rest of the creative process. Get your hands on InDesign and learn layout skills, if for no other reason than to be aware of the needs of the layout department. Watch tutorials, learn the terminology, and understand how the workflow functions and you can increase the quality of your work.
I hope you'll head over to DriveThruRPG and pick up the Scarred Lands Spell Cards for 5e. I'm quite proud of them and I think they will be a huge time saver at your table.
Tags | dungeons & dragons, game design, onyx path, scarred lands