Posted on March 14, 2022 by Monica Valentinelli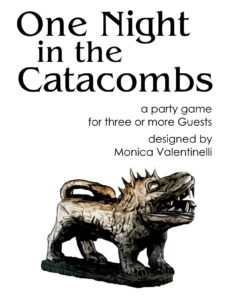 One Night in the Catacombs is a party game for three or more Guests (or players). The game begins with your invitation to a fancy party that takes place in Naples, Italy. You and your friends are influencers invited to explore a newly-discovered section of the Catacombe di San Gennaro at midnight. You are all Guests who begin play as yourselves, just as you are now.
When I sat down to write this game, I wanted to offer a party game that was easy to learn and customizable for groups who knew each other and those who didn't. This is the reason why I opted to call players "Guests", why the game's story hooks are presented in letters, why you can play as a LARP or TTRPG, and why the host of your party a customizable "Maven" who can guide your evening with a light touch or a firm hand. It's been my experience that players are more likely to take risks with folks they've played with before, and that factored into the design. Threats (or, in this case an ancient Roman spirit called a lemure) can be resolved with or without the use of force. And, while player versus player conflict is embedded into the game's design, you don't have to compete with other Guests if you choose not to.
Like other story-centric games, conflict and its resolution is a substantive part of this narrative experience. I said: "In One Night in the Catacombs, conflict is best described as resistance to your declared Actions. Resistance creates opportunities for narrative twists because failure is interesting. The strength of resistance is shaped by the Basic Rules, but it's also dependent on your roleplaying style and how you roleplay as a group." By thinking about conflict in this way, I hope that Guests will anticipate and lean into potential conflict.
To further underline how "failure is interesting" in your story, I decided death wouldn't be the end of your experience in this urban fantasy setting. Instead, it's a transformative one that continues your story as undead rather than finishes it. Character death is something that can be very difficult to manage–even in a story game–because it can often remove that player (or Guest) from the narrative fabric. In my game, it adds more embellishments shaped by simple rules to ensure an undead Guest remains part of the game.
I hope my thoughts encourage you to check out One Night in the Catacombs now available on DriveThruRPG.com!
For more games I contributed to as a writer, developer, and/or editor, browse games by Monica Valentinelli on DriveThruRPG.com.


Tags | game-designer, LARP, ttrpgs