Posted on March 17, 2017 by Flames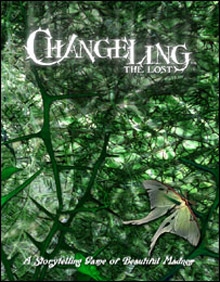 Changeling the Lost First Edition, which was published in 2007 for the Chronicles of Darkness, is now available as a fantastic deal on Bundle of Holding. This offer will expire on Monday, April 3, 2017, so be sure to mark your calendar if you want to take advantage of the offer.
"Taken from your home, transformed by the power of Faerie, kept as the Others' slave or pet — but you never forgot where you came from. Now you have found your way back through the Thorns, to a home that is no longer yours. You are Lost. Find yourself."
The Changeling the Lost Bundle includes two options of value-packed collections you can download, plus ten percent of the proceeds benefits The National Center for Missing and Exploited Children.
In the Player's Collection, you'll receive these six titles:
World of Darkness Rulebook 1E
Changeling: The Lost
Swords at Dawn
Rites of Spring
Personae: Ready-Made Player Characters
In the Storyteller's Collection, you'll get these seven titles:
Dancers in the Dusk
Lords of Summer
Autumn Nightmares
Winter Masques
Goblin Markets
Victorian Lost
Changeling: The Lost Storyteller Screen
For more information and to take advantage of this deal, hop on over to the Changeling: The Lost Bundle or visit Lost on the Bundle blog.
Tags | changeling, rpgs, white-wolf