Posted on July 7, 2011 by Flames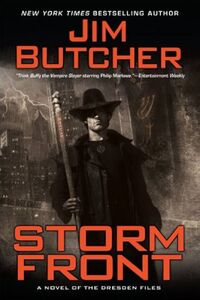 Available at Amazon.com
As most people know, Ghost Story (Dresden Files, No. 13) is coming out this month, and I love these books so much that I always re-read them all before the next one comes out. I have read Storm Front probably about 8 times or so now, but I always get excited when I start them over. Of course I am a bit of a Dresden fanboy at this point.
But to get to go back and see where Harry started (and for Jim Butcher as well) out is always fun for me.
Harry is a Wizard. The only one listed in the Chicago phone book. This may seem like it would be difficult, because it is. Most people cannot take him seriously, since they do not believe in the supernatural. It goes with the territory and he takes that with a grain of salt…most of the time.
When he gets a call from Karin Murphy of the police to help with a murder investigation, his life then gets a bit complicated with the White Council, people trying to kill him, trying to pay rent, a vampires, the mob, and dating. This is quite a bit for him to deal with, but it kind of sets the tone for how the entire series plays out. The main theme is Harry gets in over his head and somehow manages to get out of it. Is it always believable? No. But we read fantasy because it gives us a chance to think outside the normal bounds of reality.
I think what I like so much about these novels is that I related a lot to Harry. He is prideful, stubborn, honorable, and bit of an idiot when it comes to women. He wants to do the right thing and it tends to get him in trouble most of the time. Ok, sometimes more than that. But he does things for the right reasons and that can be lost in our world. This is one of the reasons we like to read so much. The characters in novels do things for the right reasons, whereas people in real life do not always do that. This is not my jaded view on life, because I am optimistic by nature, but I also understand how human nature works in real life. People are good. People are not. Most
people are a combination of both, due to the fact that life isn't always black or white.
This is his first book and you can tell. It isn't not the best written, but most first novels have a few hiccups here and there. You can see as the series grows how much better of a writer Butcher becomes. Now he will never win any awards for the greatest writer, but over time you can see how his plots get a bit more complex and the
characterization just gets better and better.
I love this series because I like the idea of a modern age wizard. I love classic fantasy as much as anyone, but it is fun to see it our age. Dealing with the problems of the modern age. Not to mention it is nice to see a counter for all of the trashy books about 5 foot women that can kill vampire/werewolves. Not to mention the god awful cover those books with the women with a tramp stamp. It isn't that I don't think women could kick ass like that, but the way they are usually written is just tawdry. They just feel like an excuse to write a story that has explicit sex scenes in them and call them dark fantasy. You want to write that? Great, but go to the romance or erotic sections, please.
I also love how he goes about magic. Which is why I love the Dresden Files RPG so much. I love how thaumaturgy works and how he uses it do so many different things. Harry is more of a basher when it comes to magic (this is shown throughout), but he uses the subtle magic to usually solve whatever the mystery is.
So for a first novel, Storm Front does a great job of setting the stage to a fun to read series.
Review by Stacey Chancellor

Tags | dresden-files