Posted on August 8, 2011 by Monica Valentinelli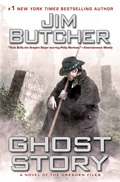 Hot off the presses, Ghost Story is the 13th installment in the Dresden Files series by Jim Butcher. At this point in the series, I would like to point out that if you haven't read Changes or some of the earlier books, then this review will likely contain ***spoilers***. Be kind to the reviewer, folks.
First things first: due to the way characters are interwoven throughout the fabric of the plot, I would recommend that new readers do not pick up "this" book as the first one. While Butcher does a fine job of trying to facilitate the back story to remind readers who some of the existing characters are, the emotional gut-wrenching reaction that you may have as a reader will fizzle and pop like a dud firecracker.
As the title suggests, this is a Ghost Story.
[...more]