Posted on July 22, 2011 by Flames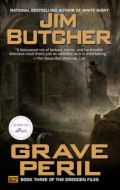 Available at Amazon.com
Again, I am trying not to spoil too much. But some things have to be said.
Grave Peril starts with a new character. Michael Carpenter, Knight of the Cross. For some reason the ghosts of Chicago have been going crazy for the last few weeks, and Harry and Michael have been running all over the place trying stop them. Michael is a great addition to this serious, because he brings a character that faith driven. Oh, and he has the holy sword Amoracchius, which was created by one of the nails that was used to crucify Jesus. Awesome.
Combined with plots dealing with Harry's fairy godmother (Leanansidhe of the Winter Court of Fae), and ramifications of his actions in Storm Front with a Red Court Vampire named Bianca…this is the book that starts to move the serious toward being a great one.
Harry and Murphy's relationship was better after Fool Moon. Still not great, but better. Even to the point where with a few other CPD members, they took down a seriously twisted sorcerer named Leonid Kravos. So things are better.
Another big step for Harry is the fact that he realizes he loves Susan Rodriguez. I love the conversation with Harry and Michael where Michael asks what his intentions are towards her. Being a servant of god really ads something to the conversations they have. Both men are trying to do what they think is right, but the way they get to that decision comes from different places. Love, love, love it. The conversation I am talking is that Michael asks Harry if he loves her, and he struggles even saying it out loud. He has had a rough life where so many people have abandoned him.
So Harry finds out that something called A Nightmare is coming into people dreams and then just attacking them, leaving them in an almost state of insanity. It just takes away part of their soul. This was a bit creepy to me, but it worked.
The climax of this story is that Harry is invited as a representative of the White Council to a party celebrating the promotion of Bianca to a higher rank in the Red Court. Harry knows it is probably a trap, since she wants to kill him. But along with Michael, he, eventually he goes because he needs answers to some of his questions. The funny part? It is a masquerade party and he went dressed AS a vampire.
Here he meets Thomas Raith, a White Court vampire, and his girlfriend Justine.
A lot of shit does down after this. Susan and Justine get captured by Bianca. Harry is forced to try to trick Lenansidhe (since she wants him to be her magical boy toy), Murphy gets attacked by the Nightmare and is barely alive, and Harry loses Michael's sword.
Harry fights his way to Bianca to save that he loves. A woman that has been infected and changed by the Red Court. Bianca offers him a compromise. Dresden gets Justine, his magical items, and safe passage; in exchange, Bianca gets to keep Susan. If Dresden refuses and tries to rescue Susan, there will be war between the vampires of the Red Court and the White Council. Which was the primary reason for all of this anyway. In the end, Harry is forced to do something that will have serious consequences, but something that he never actually hesitated to do. In order to save the woman he loves. He attacks and kills Bianca, therefore breaking the Unseelie Accords and starting a war between the White Council and the Red Court. Damn.
Yeah, Harry can be a bit of a self-righteous freak show sometimes, but I understand that.
My favorite quote in the series, is in this book.
"For the sake of one soul. For one loved one. For one life." I called power into my blasting rod, and its tip glowed incandescent white. "The way I see it, there's nothing else worth fighting a war for" -Harry Dresden
With the addition of a few characters and plots lines, the series really turned in a great direction. This was the book that got me hooked on the series.
Review by Stacey Chancellor
Tags | dresden-files