Posted on July 18, 2011 by Flames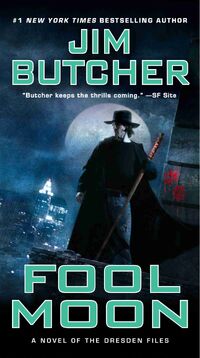 Available at Amazon.com
I am going to try to keep these as spoiler free as I can, but some things you just have to talk about.
Fool Moon is the second installment of the Dresden Files. As much as I love this series as a whole, this is my least favorite book. That doesn't mean I do not still like and enjoy it, but you have like something the least, right?
One of the things I like about these novels is that he does a good job of having more than one theme in regards to the story. The theme of this book is a few things. One, werewolves have come to Chicago, and two, Harry's relationship with Karin Murphy. After Storm Front, you know they have a tenuous working relationship. She doesn't always trust him and has not even used him for some time. So when she calls about a suspicious murder, Harry is both relieved (because he is broke) and irritated because he has not heard her in some time. To make it even more complicated, it involved John Marcone…which always seriously complicates matter.
The relationship between Harry and Karin is a bit off at the start of this book. Murphy has a tough job as being the only part of the police force that even recognizes the supernatural world. They are called Special Investigations. But she is sometimes ridiculed by her peers and her relationship with the "wizard". This is pushed even more the forefront when Murphy knows that Harry is holding back information regarding the murders.
Watching their relationship throughout the books is one of the things I have really enjoyed.
But then Harry is linked to another murder and she arrests him. This brought us to the coolest part of the book. Where Harry and The Chicago Police get into a very intense fight with a Loup-Garou…a seriously badass werewolf.
You also see the Harry is in a relationship with the reporter Susan Rodriguez. They have a nice thing going and you can see how they start to really care for each other.
This story introduces us to a few new characters. Billy and the Alpha's (werewolf gang), and Rudolph (new member of SI that is a bit of a douche).
Back to themes. One of the biggest themes of these books (especially in the beginning) is Harry trying to protect people by withholding information from them. His thought process was that it would be too dangerous for them to know. It makes Murphy not trust him, and gets (at least according to Harry) someone killed in this book. It is a very arrogant way to think, even if he felt he was doing it for the right reasons. He struggles with this quite a bit in the book.
My last thought is that this book was too werewolfy. His plots usually have a few more thing going on and typically with more than one faction of his universe. In this one, it was mostly about the werewolves and it felt like there were just too many of them. I know that is an odd thing to see about a book that is primarily about werewolves, but there you go. It would have been nice to see a vampire or something else to just add something else to the story.
Still liked the book, but definitely the worst in the series.
Review by Stacey Chancellor
Tags | dresden-files