Posted on March 26, 2013 by Flames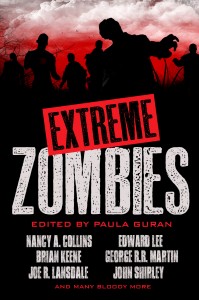 It's too late! The living dead have already taken over the world. Your brains have been devoured. Nothing is left but spasms of ravenous need—an obscene hunger for even more zombie fiction.
Forget the metaphors and the mildly scary. You want shock, you want grue, you want disturbing, gut-wrenching, skull-crunching zombie stories that take you over the edge and go splat. You want the bloody best of the ultimate undead. You have no choice. . . you. . . must. . . have. . . Extreme Zombies!
Extreme Zombies is edited by Paula Guran and published by Prime Books. To celebrate this release, FlamesRising.com is hosting a give-a-way for two signed copies in the U.S. from one of the authors, Monica Valentinelli!
Comment below! Say something witty about zombies for your chance to win a physical copy of this collection! This contest will end in a week, so hurry up and zombify us already!

Table of Contents
"Charlie's Hole" by Jesse Bullington
"At First Only Darkness" by Nancy A. Collins
"The Blood Kiss" by Dennis Etchison
"We Will Rebuild" by Cody Goodfellow
"Dead Giveaway" by Brian Hodge
"Zombies for Jesus" by Nina Kiriki Hoffman
"An Unfortunate Incident at the Slaughterhouse" by Harper Hull
"Captive Heart" by Brian Keene
"Going Down" by Nancy Kilpatrick
"On the Far Side of the Cadillac Desert With Dead Folks" by Joe R. Lansdale
"Susan" by Robin D. Laws
"Makak" by Edward Lee
"The Traumatized Generation" by Murray Leeder
"Meathouse Man" by George R.R. Martin
"Abed" by Elizabeth Massie
"For the Good of All" by Yvonne Navarro
"Home" by David Moody
"Jerry's Kids Meet Wormboy" by David J. Schow
"Aftertaste" by John Shirley
"Viva Las Vegas" by Thomas Roche
"In Beauty, Like the Night" by Norman Partridge
"Romero's Children" by David A. Riley
"Tomorrow's Precious Lambs" by Monica Valentinelli
"Provider" by Tim Waggoner
"Chuy and the Fish" by David Wellington
Contest Details
Flames Rising will be giving away two physical copies of Extreme Zombies. Please read the fine print below to find out how you can win!
1.
One Entry Per Person
– We ask that you post one entry per person, so that your fellow readers can have an equal chance of winning a prize.
2.
Entries That Will/Won't Be Considered
– By keeping these simple guidelines in mind, you will increase your chance of winning.
What Will Be Considered – Say something witty about zombies! Only entries posted by midnight CST on Tuesday, April 2nd, 2013 will be eligible to win. This contest is for U.S.-based residents ONLY.
What Won't Be Considered – Entries that are full of harsh or foul language, overly graphic/sexual depictions or discriminatory/slang comments will not be posted and may be deleted.
3. Valid Email Address Required – When you post your comment, there's a field to enter your email address. In order for us to notify winners, we ask that you please include a valid email address. This email address will not be posted publicly. We will not use your email address for any other reason other than to notify you if you've won.
4. Prizes and Notification – FlamesRising.com will provide two physical copies of Extreme Zombies to two separate winners. Contest winners will be notified via email within one week after the contest ends.
Good luck!

Tags | anthologies, contests, zombies