Posted on October 19, 2010 by Matt-M-McElroy
In this interview, FlamesRising.com editor-in-chief Matt M. McElroy sits down with best-selling author R.A. Salvatore to discuss his new book entitled GAUNTLGRYM. After the interview, uncover a vital clue to help you win a contest for a signed copy of the book and a trip for two to D&D Experience in Fort Wayne, Indiana..
This book brings Drizzt to the Neverwinter setting from the Neverwinter Nights video games. What parts of Neverwinter do you explore in this book?
We're really running circular orbits here, occasionally overlapping and intersecting at the city of Neverwinter and Neverwinter Wood. I do visit the city and use the bridges as a focal point of my time there, as they seem to be the most distinctive and lasting of the structures. I visit the forest, but only generically in this one. The thing of it is, there's a computer game company, Cryptic, recreating the landscape around Neverwinter to suit the needs of their project. As with everything in the Forgotten Realms, when we're working in the same areas, we try to be aware of each other and interact with each other so that we can play off of each others' work. Cryptic had a couple of requests for me so that I could help facilitate the changes they needed to take place.
 
The relationship between Drizzt and Jarlaxle has evolved over the years. At the start of Gauntlgrym, where do they stand?
Certainly they're not enemies, but I think inquiring of the relationship from the two parties would get you two different answers. Jarlaxle is completely at ease with Drizzt; in a strange sort of way, he has idolized Drizzt for many, many decades. Drizzt had the gumption to escape, after all, where Jarlaxle (and Zaknafein) could not, and to the drow, that is no small thing. If you look at Jarlaxle's more recent exploits and expeditions, you'll see that he, too, is striking out further and further from Menzoberranzan, though we'll see in this book that he retains some important ties to the power base there.
From Drizzt's point of view, Jarlaxle remains an enigma. He knows that Jarlaxle could have killed him on multiple occasions, and not only let him go, but helped facilitate his escape. He doesn't really trust Jarlaxle, and yet, Jarlaxle was the first person he ran to when he and Bruenor realized their losses in The Ghost King. Also, when Drizzt ponders Entreri and Jarlaxle's budding relationship way back to Servant of the Shard, he thinks that Jarlaxle might be Entreri's best chance for redemption. So while Drizzt doesn't approve of everything Jarlaxle – of course he doesn't – there's a healthy respect for his fellow drow and a belief, perhaps misplaced, that in a pinch, Jarlaxle can be counted on.
Gauntlgrym advances the timeline quite a few years for these characters, though, and there has been little interaction between them over the last few decades. They are operating in overlapping orbits, but little more, at least in the beginning.
 
After all of the enemies and battles they have faced over the years, what do your characters fear?
From Drizzt's point of view, change and loss. He is facing those fears throughout Gauntlgrym, after the events of The Ghost King. He finally found his home, his place in the world, but because of the nature of things in the Realms, it was a temporary thing, and, he fears, a temporary respite from an empty, wandering existence. So Drizzt and Bruenor have to face the losses they suffered in the beginning of the book, and Drizzt, as the book progresses, has to come to terms with a dramatic change in his own life.
Then he finds a new fear, an internal one that is more a confusion than fear, actually. For now he has to go on, but what does that mean? He knows what he is feeling, but he doesn't know why, or if it is something he should be feeling. He's off-balance. Or is he?
For Bruenor, there is no fear, but there is something he has long dreaded: a mundane existence on the throne of a well-oiled kingdom. Mithral Hall is at peace, relatively speaking, and the biggest duties for Bruenor are with the pen, not the axe — something he has never enjoyed. What Bruenor fears, then, I guess, is that waking up in the morning and going to bed at night does nothing more than put him one day closer to death.
What monstrous enemies are your favorite to write about?
Dragons, of course! Well, if I can explore them as characters, as in the short story "Wickless in the Nether." For battle scenes, I've always favored the humanoid races to the monstrous ones because I understand such fights. I know how a boxer reacts to a punch. I know how the human body bends and contorts. I know the balance points of the human frame. With all of that, I can make a fight between Drizzt and Entreri, for example, much more intricate and detailed and believable (with exaggeration, admittedly!) than one between Drizzt and a floating eye, or an owlbear, or some other wildly imaginative concoction.
How do you think long-time readers of this series will react to the end of this book?
I never know the answer to that question and I always know the answer to that question. In general terms, some will immediately begin their lament that the series hasn't done anything since The Dark Elf Trilogy or [pick any of the previous books and insert here]. Others will call it a grand new beginning, a worthy addition, or a complete flop (and some will take that to higher lengths by insisting that either Wizards of the Coast wouldn't let me write what I wanted to write, or that some other author obviously wrote this one). Honestly, it's quite amusing.
As far as the specifics of this book go, there will be anger, speculation, wild predictions and lots of tears. I knew when The Ghost King came out that if I didn't get a few 1-star angry reviews, I had failed miserably and I feel the same way about Gauntlgrym. Because the Forgotten Realms are changing — have changed, even — and a place that many people have known as a secure home for decades now has been altered dramatically. That is jarring to many people; witness the reactions to the changes in the Star Wars universe and you'll see the same sort of reaction.
I get that. I really do, and I feel it, too. Heck, I miss GenCon in Milwaukee. You can tell me all the truths of why Indianapolis is a better location for that convention — the convention center is much better, there's more hotel room, it's more convenient and on and on — but it won't change my feelings, my wistful nostalgia for Milwaukee's GenCon. It's very human to feel this way. You can tell me that World of Warcraft is better than Everquest, and technically, you'd be absolutely correct, but I'll never have the tales of adventure for WoW that I have for EQ. Same with 1st Edition D&D and 4th Edition. Same with the Realms gray box and the new incarnation of Ed Greenwood's magical land.
I remember back in the early 90s, when I first started hearing the complaints that the newest Drizzt book didn't measure up (even on books that I knew to be superior to most that had gone before, by every writing standard). I was a bit dismayed, but my editor and dear friend told me, "Bob, what they want is their Drizzt virginity back, and you can't give it to them."
I guess we all want things like that. It's very human.
Love R.A. Salvatore's Books? Contest Details Below.
The following question relates to the riddle that @Wizards_DnD tweeted Sunday. Solve this question for a prize. And a clue! Because the answer is the fourth of eight clues that will help you solve the riddle at the end of the week when the online tour wraps up. The first person to comment on this blog post with the correct answer to the following clue question, including his/her Twitter user name, wins today's prize.
SCAVENGER HUNT UPDATE:
Congrats to Corey Dockendorf, the first eligible participant who correctly answered today's clue question! Here's the correct answer, since everybody will need it in order to solve the riddle at the end of R.A. Salvatore's online tour beginning 10/22/10. Remember to visit all the other tour stops to find the other seven clues. Schedule, contest details, and official rules are available here: http://www.wizards.com/dnd/promotions.aspx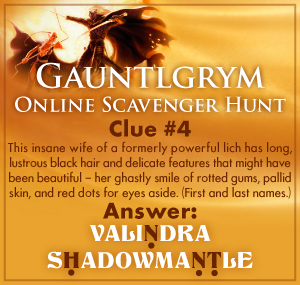 A SPECIAL NOTE FROM WIZARDS OF THE COAST: Visit all the stops during R.A. Salvatore's week-long Gauntlgrym online tour to find the seven other clues. At the end of the online tour on 10/22/10, put all the clues together, be first to solve the riddle and tweet about it, and win a signed copy of Gauntlgrym and a trip for two to D↦D Experience in Fort Wayne, IN. You must include @Wizards_DnD and #gauntlgrym in your tweet. Riddle-solving tweets won't be accepted until 12:01 a.m. EST on 10/22/10.
Good luck!
Tags | dark-fantasy, forgotten-realms, salvatore, wotc