Posted on August 18, 2009 by Monica Valentinelli
GenCon this year was a world of difference from last year, partially because instead of running a booth I was on several panels at the Writer's Symposium. This selection of panels, organized by Jean Rabe was structured so that budding writers and game designers could get the help that they needed on a variety of topics ranging from world-building to their careers. In my opinion, even with my late evenings, I thought that the panels went really well because they were focused and pragmatic. Some of the panelists included authors like: Anton Strout, Pat Rothfuss, Mike Stackpole, John Helfers and Kerrie Hughes, Jean Rabe, Paul Genesse, Jennifer Brozek, Kelly Swails, Chris Pierson and more!
Part of the reason why I felt the panels went well, was because they were highly organized but didn't limit the type of writing someone might be interested in. As you might be aware, game writing is different from writing in shared world settings, which is different from writing original fiction. Panelists came from a variety of backgrounds, and I felt that really helped provide a rainbow of advice and tips for upcoming writers.
In addition to the Writer's Symposium, I got the chance to wander GenCon and see many, many industry friends and professionals. I picked up a copy of Gamer Fantastic from Author's Alley which includes stories from Ed Greenwood, Donald J. Bingle, Richard Lee Byers, Jean Rabe and a number of other authors. This book is pretty meaningful to me, because Ed wrote a memorial to Gary Gygax and Brian Thomsen (You Forgot Whose Realm This Really Is!) passed on after writing this story. I ended up asking Ed Greenwood (who is HILARIOUS) and Kerrie Hughes to sign my copy. Hoping to hit up the other authors next year.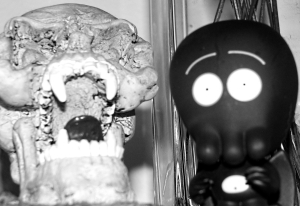 Also on my shopping list were a few Cthulhu-based items. I picked up a couple of Mythos Buddies from Steve Jackson Games and a book called Cthulhu 101 along with a t-shirt that declared "Cth'eep on Truckin'." The Mythos Buddies are random; of course, when I opened mine up I wasn't surprised to see Goth Cthulhu.
In addition to a new set of dice and some other games and trinkets, I got the chance to play a new game by Paul Tevis called A Penny For My Thoughts. This game was pretty interesting, because it doesn't have any dice in the mechanic. Perfect for new players (minimum of 3), you solve the mystery of who you are by building memories. In the game, there are different storylines but you could easily make up your own, too. Other games that were really "hot" items this year were the Mouseguard RPG, Pathfinder corebook, Misery Bubblegum card game, A Song of Ice and Fire Narrator's Kit, several new Munchkin card games that sold out at Steve Jackson Games before I had the chance to spot them, Eclipse Phase, Geist: the Sin-Eaters and a few others that I know I'm missing. This year there were also a few other odd items that seemed to be a huge hit: drinks based on Magic: the Gathering and pirate energy drinks. In addition to doing really well at the ENnie awards, the big news was the Wizards of the Coast announcement that they'll be producing a game based on the Dark Sun setting. There's also quite a bit of fan interest in the upcoming Doctor Who RPG from Cubicle 7, too.
I know I'm missing a few other announcements and hot ticket items, which is why I've been listening to the This Just In from GenCon podcast. Matt and I were on the first episode this year, and I thought it turned out pretty well.
Even though I had a great time, I didn't take a ton of pictures this year. Saw lots of old friends and made some new ones — although there were several people I didn't get to run into. I was happy there was an interest in Tales of Seven Dogs Society and Buried Tales of Pinebox, Texas, as well as the other games and fiction projects I've written for. Special thanks to everyone who supported my work and I look forward to sharing some "big" news as I'm able to. Till next time, keep the dice rolling and the words flowing…
Monica Valentinelli
Tags | convention, gencon