Posted on November 27, 2009 by spikexan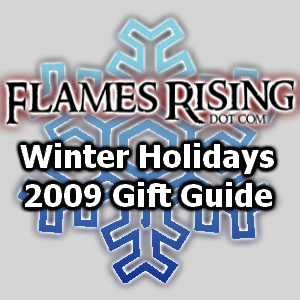 In this edition of the FlamesRising.com's Winter Holidays 2009 Gift Guide, we hear from FlamesRising reviewer and RPG freelancer, Todd Cash. Todd talks about Play Dirty by John Wick, Hunter: the Vigil by White Wolf Publishing, New Age Requiem and Eclipse Phase by Catalyst Game Labs in this post. Be sure to read our interview with Eddy Webb about New Age Requiem if you're interested in reading more.
Being a wage slave at a retailer forces me to think a great deal about Black Friday, the holiest of Capitalism's holy days. Since I'm trapped into pondering it non-stop, I thought I'd pass along the blessings to you all. I'd like to believe, however, that you'll actually find these shopping guidelines more useful than a 600 count of pink bed sheets (no offense to those of you needed said pink bed sheets). I going to revisit some games I've reviewed over the past year (and some I didn't) for the sole purpose of finding the best of the best. The holidays are afoot, so some of you will have free time over the next month to game. It's also Winter, the best season for gaming (inmyhumbleopinion).
Being that you're reading this on a horror-themed site, I'll try to focus a bit on the Black Evil Darkness that is Black Friday rather than the post-Thanksgiving hoo-ha.
I want to start off with what I consider to be one of the most useful tools for game masters. Although many RPGs have sections entitled "GM Advice," I find much of it to be rehashed material. When I do find ample useable materials in those sections, those games generally go up several notches. My choice for Most Useful GM Advice would have to be John Wick's Play Dirty. I've read the book several times and swear I learn a different lesson from the closest thing I know to a RPG sensei. My runner-up for this category would have to be Chad Underkoffler's The Zorcerer of Zo. Hiding within this book are secret DVDish special features that explains in succinct detail how he turned a campaign for two friends into a terrific RPG.
Both of these books will suggest something you probably didn't consider before… unless you're one of the authors.
My introduction to gaming had two huge milestones: my first and then my first true love. We won't go into my first today (hint: super heroes, not dungeons); however, I'll talk about my first true love, which happens to be Vampire: the Masquerade. It's been a rough patch over the years, but I've found them returning to greatness of late. Permit me to share what I consider are the two best finds in White Wolf's stash right now.
First, Hunter: the Vigil is an amazing book with some of the most versatile alliances within it. There are the factions that make you feel sorry for the monsters they hunt (Ashwood Abbey) and the factions that are basically monsters themselves (Lucifuge). The artwork is excellent throughout the book and this line also has some excellent support through the SAS line of adventures and the Collection of Horrors.
Second, my runner-up in this group, has to be New Age Requiem. If you love the 80s and need some inspiration to run a game in the day when MTV played music videos, then you cannot go wrong with this book. If you crave running a campaign in the 1950s, give White Wolf time. I sure their scientists are working on that right now.
Finally, I want to offer a suggestion for the best new game I've read this year. I look at my reviews and my own purchases in 2009… and find one game just knocked me out. It wowed me because I didn't expect it to. It's sci-fi and I'm only kinda-sorta into that. This game has such an amazingly considered setting and excellently-structured rules that I have to point it out again. Yeah, I'd consider Eclipse Phase the single best RPG for your holiday/winter-y needs.
This is the game you can wile the afternoon away with while playing around hot cocoa instead of Coca-Cola.
Happy Holidays,
Todd Cash

Tags | indie games, sas