Posted on October 1, 2010 by Flames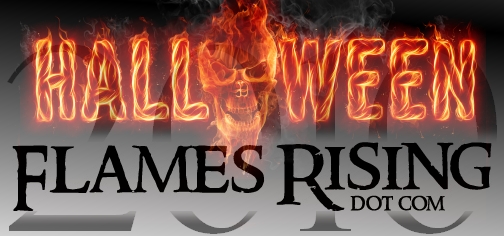 In this post, we take a brief look back at what we've done for Halloween for the past, two years and share with you our plans for this year.
Last year, we released a horror plot generator that you continue to enjoy. White Wolf Publishing, who recently announced that the World of Darkness MMO will be based on Vampire: the Masquerade, offered you a scene to be used in your World of Darkness game. Dubbed The Devil's Night SAS, you'll need to figure out how to stop the fires from burning in your own city. In addition to those two big surprises, we also featured Crackle.com's Zombiefest and other timely events that were related to Halloween.
For Halloween 2009 at FlamesRising.com, thirty-one different creatures reared their monstrous heads each day. Those horrifying creatures are still lingering around, so if you want to have some fun, be sure to drop by our 2009 wrap-up and check them out. For that year, one of your favorite guest posts was written by Jess Hartled. 13 Halloween Etiquette Tips From One Geek to Another continues to be a fan favorite so be sure to check it out.
What's New for Halloween 2010?
For Halloween 2010, our spooky extravaganza is a celebration of what we love best about the holiday. Our contributors have already started to celebrate Halloween so they can share with you what they love (and hate) about All Hallow's Eve.
In addition to our regular content, we will be offering you tips, recipes, crafts, and other articles specifically geared toward Halloween and its traditions. From tarot cards to hard-boiled eggs and everything in between, we're are excited to help you make the most out of this fun holiday.
The easiest way to stay on top of what's happening at FlamesRising.com, is to subscribe to our horror RSS feed or sign up for e-mail updates.
Otherwise, we encourage you to check back with us or follow us on Twitter through @flamesrising or catch our FlamesRising.com Facebook page updates.
Tags | Flames Rising, halloween