Posted on April 1, 2015 by Flames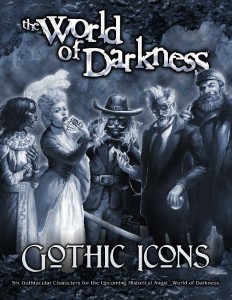 Today on Fish Fool's, Onyx Path Publishing is thrilled to announce an exciting change. Inspired by the success of the Dark Eras Kickstarter, the company has decided to overhaul every classic and new World of Darkness game in their catalog and will transport the entire line back to the nineteenth century, during the height of Gothic literature's popularity, to add Historical Angst™!
"I was so impressed with the enthusiasm we got from fans, I turned to our developers after the Kickstarter was over and asked them if we should skip the modern day crap and focus on a more intriguing period of history," Rich Thomas, CEO and President of Onyx Path Publishing said. "There were so many historical eras to choose from, it was hard to figure out which one would be the right fit for the entire World of Darkness. But then I thought, 'Hey, what would Carmilla do?' Then a black cat crossed my path, and I freaked out a little, but that onyx feline gave me an idea. Why not take all of our games and draw from horror's roots? Sure, we've always dealt with symbolism and allegory from all aspects of the horror genre, but Gothic literature seems like a no-brainer. Believe me, there's nothing gothier or angstier than those characters. They're all supergoths, which is great for us and for the fans. And if I'm remembering right, some of them even had capes!"
"You know, at first I was really skeptical of this change because it's something we hadn't considered before. But after a while, the idea that we could tap into Historical Angst™ kind of grew on me," said Eddy Webb, Vampire: the Masquerade developer. "I mean, think about it. In a way, Vampire wouldn't exist without Gothic characters like the goth vampire Varney. This just makes sense."
To highlight the new path Onyx Path Publishing will follow, the company has filed a trademark for the phrase Historical Angst™ and is offering a free download of Gothic Icons for fans to use in their new World of Darkness chronicles. Gothic Icons is a special collection of six, iconic Goth characters found in Gothic literature like the misguided wannabe goth Baron Vordenburg, who has never hunted vampires before and relies on a saber instead of a stake, or the gamer goth Countess Anna Fedotovna, an avid card player who favors the odds (Ace, 3, and 7 to be precise). The rules for the characters were created using the World of Darkness Rulebook and the God-Machine Chronicle character creation update.
For more information about the upcoming Historical Angst™ version of the World of Darkness, follow the Onyx Path blog for updates—and revel in its gothtacular goodness!

Tags | fish fools, nWoD, onyx path, RMCs