Posted on June 21, 2019 by Flames
Hello FlamesRising.com readers! Today, we are sitting down with author and biologist Robyn Bennis. Her first novel, an action-packed steampunk tale called The Guns Above, debuted in May 2017. Since then she's released a sequel titled By Fire Above and a brand new book titled The Devil's Guide to Managing Difficult People. If you're curious about her and her work, visit www.robynbennis.com or read The Devil's Guide to Managing Difficult People preview here on Flames.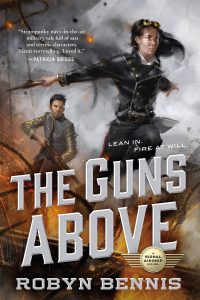 Welcome Robyn! You're a biologist by trade. How has your scientific background helped your storytelling?
In steampunk, it's helped me to think about how technology does and doesn't work, so I can provide those sweet, sweet tech descriptions that all the nerds love. More generally, being able to think critically and honestly about flaws in my ideas–in science, you either learn humility or you get steamrolled by material reality–has helped me to self-edit, to see what is and isn't working in a story, and to adjust it accordingly.

What interests you about steampunk? And, has that changed since you first started telling stories?
No, it hasn't changed! I still adore the aesthetics of steampunk. I love the simple idea that you can do pretty much anything with a bunch of gears and a boiler. There's a weird kind of optimism to that, that calls back to the early Information Age, when we thought in ten or twenty years we'd have flying cars and would be taking day trips to the moon.

In recent years, steampunk as a genre has been re-examined alongside conversations to decolonize narratives. How do you address colonialism in your novels?
I am proud to say that my editor, the amazing, twice-Hugo nominated editor Diana Pho, was one of the earliest to start that conversation. She held my hand while we were working on the first book, The Guns Above. Although neither book comes at colonialism head on, I believe we succeeded in our goals to avoid glorifying it and took a few pot shots at the subject along the way.

Awesome! Can we expect a third book in the Signal Airship series?
If people buy more of the first two books, absolutely! Tell your friends and family to buy my books!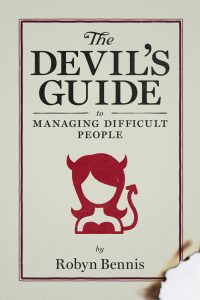 The Devil's Guide to Managing Difficult People is a comedic departure from your steampunk novels. What was your inspiration for writing this story?
The inspiration was primarily taken from my own life and experiences. Dealing with the death of my mother, in particular–who never was a huge or positive part of my life, but who I nevertheless loved very much–took me years to process. Jordan, the main character, goes through the process of mourning a bit faster with the help and abuse of Dee, the Devil. 'Course I never had those advantages.

The Devil in your story touches on some modern horror tropes like Catholic exorcisms while playing with new twists. What was your worldbuilding process to address how the supernatural worked?
I didn't do a lot of research to worldbuild, but then again I grew up Catholic — I didn't have to. My version of the Devil is largely a trickster god archetype and therefore, at least in my mind, defining the rules in my head would've been counterproductive. Instead, I provided her with abilities as the needs of the story and characters dictated. During revisions, I then went back and clarified the rules for her character.

Your main character, Jordan, and Dee share some similarities. There's a little bit of the Devil in Jordan, too, despite her protests. Do you believe there's a little Devil inside all your characters?
Insofar as all my characters are drawn from aspects of my own personality? Yes, very much so. Absolutely. I don't think of any of my main characters as being particularly good people, which probably says a lot about me.

Death also makes an appearance in this story, and their personification is unlike anything we've seen before. What was your inspiration for introducing this character?
I don't remember the specific inspiration for that portrayal, but it had to have been partly inspired by Terry Prachett. I've always loved the way he could blend cutting social commentary with the goofiest supernatural portrayals.

What's next for you?
Probably being set on fire by an angry mob and thrown in a ditch? Failing that, I am currently writing a book which is provisionally titled Up the Well, about a trans girl on an agricultural space station. You get a lot of the small town queer dynamics that I grew up with alongside cool space stuff.

This interview was conducted by FlamesRising.com contributor Monica Valentinelli.

Tags | horror-comedy, steampunk