Posted on June 11, 2018 by Flames

Flamesrising.com is pleased to present an interview with Eddy Webb, the creator of the Pugmire RPG, Monarchies of Mau Early Access, and Fetch Quest a deck-building card game. Currently, Eddy is in the middle of a Fetch Quest Kickstarter campaign to fund new stretch goals.
What can you tell us about the world of Pugmire?
Imagine our world, but far in the future. Humanity is gone, but we've uplifted our best friends–dogs and cats–to use tools, language, and magic in the world we've left behind. Players are dog pioneers undertaking dangerous missions to defeat terrifying monsters and reclaim powerful artifacts for the betterment of the kingdom of Pugmire. Think Lords of the Rings meets Planet of the Apes, but with dogs.
That's the basis of what I've been calling the "realms of Pugmire"–an umbrella containing all the products and fiction set in that universe. It started with a short story, and bloomed into the Pugmire RPG, which my company (Pugsteady) produced with Onyx Path Publishing. And it's been a roller-coaster ride ever since!
Where did the idea for Fetch Quest come from?
Fetch Quest started in the same way that the Pugmire RPG started: out of frustration. Pugmire was (partially) designed because fantasy games didn't work quite the way I wanted them to, so I kept notes for how to make one that did. Over time what I wanted to do with Pugmire specifically took priority over what my personal design preferences are, so it's still not quite the perfect fantasy game for me, but that's where it started from.
Fetch Quest was much the same way. My family has grown to enjoy cooperative games and deck-building games, but both were just a touch too complex. There are often too many moving parts, and certain design elements seemed counter-intuitive. It's not that they're bad games–most of the time, they're not–but they weren't quite what we wanted to play. So I started from "what do I want from such a game?" And, much like Pugmire, the design evolved to fit the experience I as crafting, but some of the design intent is still there.
What are some of the Challenges and Missions in Fetch Quest?
Most of the Challenges and Missions are derived from iconic experiences in the Pugmire RPG. So, for example, there are cat, dog, lizard, and badger antagonists like bandits, but also strange monsters like bone bugs that burrow into skeletons and animate them. Not all Challenges are enemies, however–there are also more impersonal threats like Crushing Walls and a Fog of Confusion. The Missions themselves paint a very broad picture of a quest: seek out a ruin, avoid traps getting into the ruin, defeat the undead protectors, and then escape the crypt.
If Fetch Quest does well, I have plans to offer new Challenges and Missions, so players can swap out key cards and have a different experience. For example, I already have design notes for a Mission Deck that emulates The Secret of Vinsen's Tomb, one of our adventures for the Pugmire RPG.
How did playtesting at conventions help develop the game?
Oh, immensely. When I'm designing a game, I go through two rough playtest passes. The first is the "core design" pass, where I don't worry about the nuances of the specific rules–instead, I'm just looking to see if the base gameplay is fun and bringing about the experience I'm shooting for. Then, once I know the core design works the way I want it to, I get into the alpha and beta playtest phases to fine-tune rules.
What struck me right away when I first tested Fetch Quest at the Midwinter Gaming Convention is that the core design pass was very short. Players got the idea of the game right away, while still recognizing that it was a new and different experience. Fans of the realms of Pugmire definitely felt it was evocative of the game and universe they love. So I was able to quickly switch to early alpha playtesting at the show, asking detailed questions from the players. Then I spent a year off-and-on fine-tuning the game, and the beta playtest phase at shows was excellent. Again, I got lots of insightful commentary.
I find more and more over the years that, while blind playtesting from people online helps in certain areas, actually playing the game with players or watching them play the game offers unrivaled information. Onyx Path fans in general, and Pugmire fans particularly, are very passionate and excited, and so many of them have a depth of self-awareness that is mind-blowing. There have been plenty of times in Fetch Quest where players have said things like "This mechanic made me win more often, so maybe you want to adjust so it's tougher, because I want to struggle more while I'm playing."
What can you tell us about the Cat Pioneer cards?
While Fetch Quest is definitely geared around the dogs of Pugmire, I wanted to allow cat fans a chance to play as well. So, two of the stretch goals of our current Kickstarter allow players to swap out the six dog pioneers for six cat pioneers instead. I haven't had a chance to test them out yet, but I designed them to work as a different style of team to the dogs. They have their own useful powers, but their play style is a little different from the dog characters. And it's a testament to the strength of Fetch Quest's modular design: you can switch out six cards and have a different flavor of game.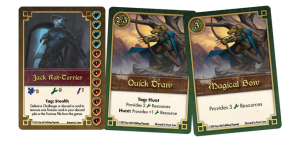 Who are some of the artists involved with Fetch Quest?
Mike Chaney, Onyx Path Publishing's art director, reached out to our Pugmire and Monarchies of Mau art teams to contribute to Fetch Quest. Mike wanted to make sure that Fetch Quest both looked amazing and had a visual connection to the RPGs. Some regulars who have done amazing work are Shen Fei, Pat Loboyko, Pat McEvoy, Claudio Pozas, and John Hodgson. But there are many, many more — we're very lucky to have so many talented artists working for us!
What can you tell us about the Canis Minor program?
Canis Minor is our imprint that allows the Pugmire community to create and sell self-published material for the Pugmire RPG. They can offer their work for free, set a price, or make it pay-what-you-want. In exchange, we give them some resources to help them out, like art and layout assets, and a marketplace that other Pugmire fans will come to. Right now it's only for support materials for the Pugmire RPG, but we're planning to expand to Monarchies of Mau once that launches. And if our Fetch Quest Kickstarter goes well, we may be able to offer people the chance to make their own Fetch Quest cards as well!
What other Realms of Pugmire products are currently available?
Aside from Pugmire and Fetch Quest, we are working on Monarchies of Mau, a companion game to Pugmire that allows for the portrayal of cat characters, and details about their own nation (and threats!). We've produced a jumpstart for Pugmire, a book teaching people how to play the game, support cards, T-shirts, and even a half-hour audio drama! If you want to find out more or see what other items we have available, they're all up on our central website, realmsofpugmire.com!
Be sure to check out the Fetch Quest Kickstarter campaign!

Tags | card-game, kickstarter