Posted on July 30, 2020 by Flames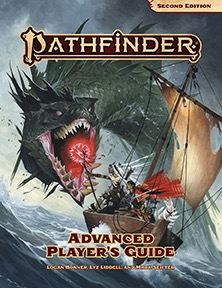 Join Paizo for the Best Four Days in Gaming during Gen Con Online today through August 2 and play amazing Pathfinder and Starfinder games with friends from around the world! The year's biggest releases await players, including the Pathfinder Advanced Player's Guide, Starfinder Starship Operations Manual, and Pathfinder Lost Omens: Legends!
Ready to go beyond the basics? Expand the limits of what's possible with the Pathfinder Advanced Player's Guide! This 272-page Pathfinder Second Edition rulebook contains exciting new rules options for player characters, adding even more depth of choice to your Pathfinder game! Inside you will find brand new ancestries, heritages, and four new classes: the shrewd investigator, the mysterious oracle, the daring swashbuckler, and the hex-slinging witch! The Advanced Player's Guide also includes exciting new options for all your favorite Core Rulebook classes and tons of new backgrounds, general feats, spells, items, and 40 flexible archetypes to customize your play experience even further!
Blast off into space with the Starfinder Starship Operations Manual, Starfinder's latest rules expansion hardcover! Outfit your beloved starship with more than 100 new starship weapons, expansion bays, alternate armors, and systems like drop pods, ramming prows, mines, ablative armor, virtual intelligences, and more. If you're looking for a new ride, you'll find profiles of leading starship manufacturers as well as statistics for more than 40 new starships found throughout the galaxy.
It's not always what you know, but who you know! The heroes of the Age of Lost Omens forge their path through an uncertain world, but that world has been shaped by many others who came before or who now stand beside them! Pathfinder Lost Omens: Legends details on 42 of the Inner Sea region's biggest personalities, from queens and kings that rule the present to distant figures from Golarion's past. Uncover details from the inner lives of movers and shakers from all around the globe, as well as the secret techniques, items, and knowledge PCs might gain from encountering these larger-than-life figures!
To learn all about Paizo at Gen Con Online, including online games with Paizo Organized Play, Paizo Twitch Channel interviews and seminars, a 20% off online store discount code, and much more, go to paizo.com/gencon.
Tags | gen-con, paizo, pathfinder