Posted on February 3, 2015 by Flames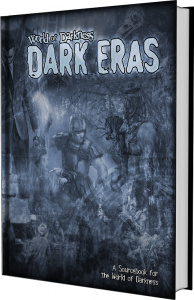 On Wednesday, February 4th Onyx Path Publishing will be hosting a Twitter chat for fans to discuss the World of Darkness: Dark Eras supplement that is currently funding at Kickstarter.com.
Starting at 8:00 p.m. EST, tune in to the #DarkEras hashtag and connect with the writers and developers who worked on this book. You can either follow the hashtag or stay up to date through the Onyx Path Twitter account at @theonyxpath.
Onyx Path is taking questions ahead of the chat, too. If you would like to be part of this discussion, visit Rich's Darkness, Now with More Eras post and add your thoughts about this supplement and the Dark Eras Kickstarter in the comments!


Tags | kickstarter, onyx path, world-of-darkness