Posted on April 12, 2012 by Flames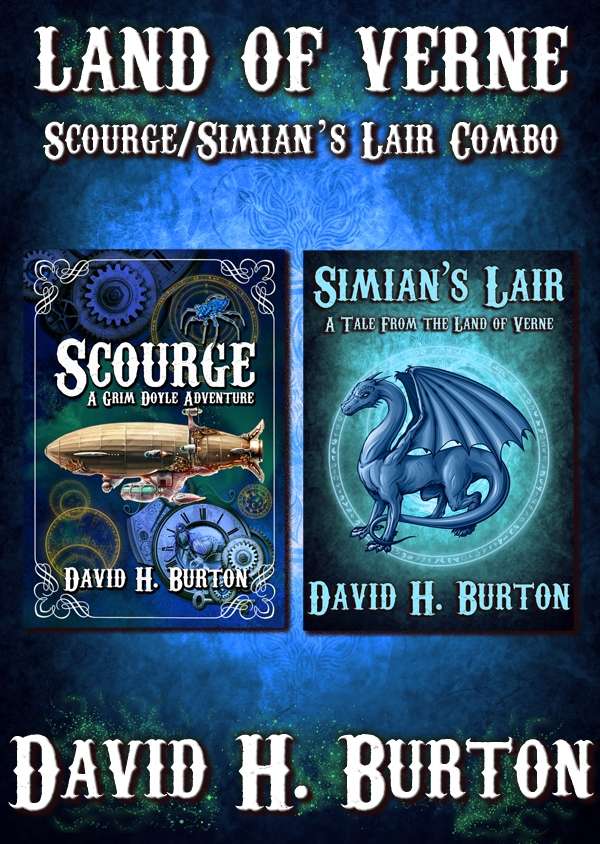 This steampunk fantasy combo contains the children's novel Scourge: A Grim Doyle Adventure as well as the short story, Simian's Lair: A Tale from the Land of Verne!
Also includes the first chapter of the eagerly awaited Choose Your Own Adventure Novel, Billy Bones: Beyond the Grave!
Scourge: A Grim Doyle Adventure
"This book is one part J.K. Rowling, one part Lemony Snicket, one part H.G Wells/Jules Verne, and all parts awesome!" – Tiffany's Bookshelf
Two dads, five siblings, and goggles!
Grim Doyle has always known his life was not exactly "normal", and things get even more curious when he discovers a set of stones that sweep him and his family to the fantasy, steampunk world of Verne – a place they had escaped from years ago. Now that they've returned, Grim and his siblings hide from the evil Lord Victor and his minions. And while learning about Jinns, Mystics, and the power of absinth they try to discover who is trying to kill them with the deadly Scourge.
Scourge is the first novel in the Grim Doyle Adventure series by author, David H. Burton.
Simian's Lair: A Tale from the Land of Verne
This 'Tale From the Land of Verne' is a children's short story that takes place in the world of the Grim Doyle Adventures. Enjoy reading about some of the characters you know from Scourge!
Four orphans from the land of Verne are lured into Simian's Lair – a dark abode whose purpose has been lost to the ravages of time. In it dwells an evil that must be cleansed, and from it, they must retrieve a secret that's been locked away for centuries. Join them, along with Madam Patrice and Master Rickett, on a journey where courage is found in the darkest of places.
Land of Verne: A Steampunk Fantasy Combo is available now at DriveThruFiction.com!
Tags | steampunk