Posted on December 6, 2010 by Flames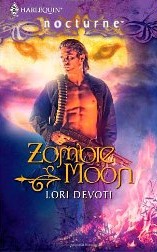 FlamesRising.com is pleased to present you with a look at how romance and zombies go together from paranormal romance author Lori Devoti. This past year, Lori released Zombie Moon, which was published by Silhouette Nocturne. How do these unlikely elements go together? Read Lori's thoughts and find out! If you enjoy reading paranormal romance, be sure to enter our contest for a free novel from this talented author, too.
Zombies and romance…not two things you would think to put together. But then a lot of people wouldn't put vampires and romance together either, and look how that has worked out.
Of course for a very long time, vampires have had a certain powerful sexiness to them. So, if you are familiar with genre romance and the old historical alpha heros from the seventies, the leap from monster to romance hero was not really a leap at all.
I wouldn't even say it was a hop.
But zombies?
Zombies drop parts, eat brains and stumble around like drugged up moshers.
Like vampires they are scary, but they aren't powerful. More often than not they are a tool of the powerful, or a victim of the powerful. This is not the stuff of a romance hero.
And in my mind this is what keeps them from being a decent romance hero–as much, maybe even more than the dropping parts bit.
Which is why when the zombie craze started and I decided to write a zombie romance, I also decided just as quickly that my hero would not be a zombie. I might have gotten away with the heroine being one, but I think that story would have had to fall into more of a classic/tragic romance storyline than a modern genre one.
Zombie Moon is about zombies–right down to the brain eating and the horror of facing a monster that could easily be you–but my hero? No way. He and my heroine have to be strong. They have to be the ones fighting to survive and to find love against one of the most horrifying enemies of all–zombies.
br>
About Lori Devoti
Lori Devoti is the multi-published author of urban fantasy and contemporary and paranormal romance. Her books have received numerous Top Pick designations and been nominated for awards, including the Romantic Times Readers' Choice Award. To learn more about her and her books visit her web site at www.loridevoti.com or check out her articles on writing at www.howtowritehop.com.
br>
Contest Rules for a Novel Give-a-way
To enter this contest, simply add a comment to the bottom of this post and mention why you'd like to read a copy of ZOMBIE MOON.
1.
One Entry Per Person
– We ask that you post one entry per person so that all paranormal romance fans have a fair shot at winning a free book. The winner of this contest may choose a paperback or digital copy of ZOMBIE MOON or another of Lori's romances from Harlequin Nocturne. (Digital copy for the Amazon Kindle only.)
2. Territory Restriction – At the author's request, only entrants who reside in the United States or Canada will be eligible for this contest.
3. Valid Email Address Required – When you post your comment, there's a field to enter your email address. In order for the publisher to notify the winners, we ask that you please include a valid email address. This email address will not be posted publicly, and neither us, nor the publisher, will use your email address for any other reason other than to notify you if you've won.
4. Valid Postal Address Required – Once you are notified, you will need to provide the author with a valid mailing address in the U.S. or Canada so they can mail you your prize.
5. Contest Entries Must Be Received By – midnight on December 10th, 2010 in order to be eligible.
Contest winners will be notified via email approximately one week after the contest ends. Good luck!
Tags | lori devoti, paranormal-romance, zombies