Posted on March 4, 2013 by Monica Valentinelli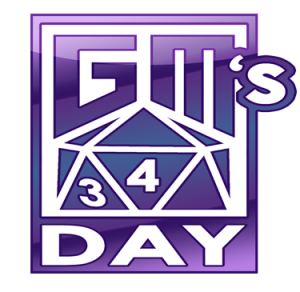 Have you honored your GM or Storyteller yet today?
Today is March Fourth, an annual holiday that begs all players to remember the master of their evening's entertainment — the GM. In honor of this auspicious day of days, DriveThruRPG.com is running a huge GM's Day Sale all week on a massive list of downloadable games, supplements, and accessories.
Since there are over 13,000 titles discounted, including a few from FR Press, I've put together a list of my picks for game lines I haven't worked on thus far.
With that in mind, here are ten great games, supplements, or accessories to buy during the GM's Day Sale.

Monica's Top 10 Picks for DriveThruRPG's GM's Day Sale

1. Mouse Guard Roleplaying Game – Based on the comic published by Archaia Entertainment, this RPG based on David Petersen's hit comic about mice battling their way through a medieval landscape is $5 off.
2. Advanced Dungeons and Dragons Vikings Campaign Sourcebook – I am a sucker for historical-based publications. This sourcebook, from Wizards of the Coast, hits me on two fronts: it's a historically-based campaign and the first in a line of TSR's reference books.
3. Ashen Stars Music: All We Have Forgotten – Pelgrane Press, publishers of Trail of Cthulhu and Ashen Stars, as a great collection of in game accessories perfect for gaming, writing, or scaring your neighbors.
4. Doctor Who: The Time Traveler's Companion – I've been a fan of Doctor Who for a long time and it's only recently that I've discovered the RPG from Cubicle 7. There are a ton of useful tools in this supplement and at $14.99, it's a steal.
5. Arkham Sanitariam – I don't know about you, but I love having tangible in-game props to either use at the table or hang on my wall. (Yes, I'm that kind of a nerd.) This supplement from Chaosium caught my eye, because it has a ton of official-looking certificates and paperwork you can use in your campaign.
6. Avalon – The myths shrouding that era in history are a personal favorite of mine, so when I saw this sourcebook from AEG for under $5 I said: "Yes! Add to cart!"
7. Cthulhu Mythos Encyclopedia – This first-ever resource from Arc Dream Publishing is a must-have for any fan, player, GM, writer, or aficionado of the Mythos.
8. Shadowrun 20th Anniversary Corebook – Oh, this one's a no-brainer. If you haven't gotten your hands on a copy of Shadowrun yet, now's your chance.
9. Nox Arcana Songbook – Several of Nox Arcana's dark and moody music collections are on sale this week, but this songbook caught my eye. It's really hard to find atmospheric sheet music and I love the fact they've made their music accessible to musicians, too. So, if you know anybody who can tickle those ivories…
10. Mutants and Masterminds Hero's Handbook – Last but not least, I need to give a shout out to the gorgeous books in the Mutants and Masterminds collection from Green Ronin. The corebook and a few supplements are included in this sale. I've been really impressed with the writing and layout; a worthy addition to any superhero fan's library.
Those are my ten picks. With 1000s of titles to choose from, be sure to drop by and tell me what you picked up, too!

Tags | gm, rpgs, sale, storyteller