Posted on October 16, 2012 by Matt-M-McElroy
I just got back from New York Comic Con and I had a great time at the show. I was mostly there in my role as Marketing Director for DriveThruComics.com, but I somehow found the time to have a little fun for Flames Rising too.
There were certainly plenty of awesome Horror & Dark Fantasy items on display to catch any fans interest. One of my first stops was the Black Watch Comics booth to check out The North End of the World by David Hunsaker and Christopher Shy. Conveniently for me, the Monarch Comics booth with new and collected issues of the Witch Hunter series was right next door. This is also where I ran into Brian and Matt from the Secret Identity Podcast (of which Brian got me to do a short interview, yikes!) so this area kind of became my "home base" for the show. Great books, good friends and a cool place to hang out between other meetings and wandering the show floor.
This was my 3rd or 4th trip to NYCC and it gets bigger every year. ICv2 is reporting 116,000 attendees this year. Here is a shot I took while walking around on Friday: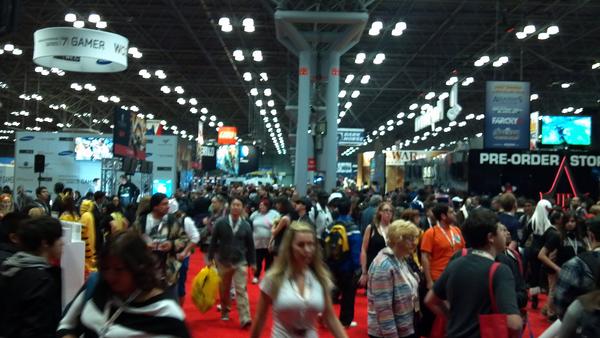 As we posted earlier, Avatar Press had a lot going on at the show and every time I stopped by their booth it seemed like cool stuff was going on including signings with various creators. Archaia Entertainment always has a great presence at the show as well. I stopped and talked with David Petersen (Mouse Guard), Chandra Free (God Machine), Mark Smylie (Artesia) and a number of other very talented folks.
The Rebellion/2000 AD booth had some very cool Judge Dredd goodies up for grabs, many of which we'll see over at DriveThruComics in the coming months. Dark Horse was promoting the Hellboy in Hell series and the Image Comics booth was over 50% Walking Dead as is usual these days.
The Studio Z crew was on hand showing off the Z-Girl and the 4 Tigers series. I also caught up with Luke Crane and Jared Sorensen over at the Burning Wheel booth. Luke had copies of Christopher Moeller's Iron Empires graphic novels as well as the Burning Empires and Freemarket RPGs. Jared had copies of the excellent Parsley mini-games on-hand, of which you should definitely pick up Pumpkin Town and Spooky Manor for Halloween fun.
I spent quite a bit of time in Artist Alley checking out some of the awesome creator owned and indie titles (as well as some truly excellent art).
Jim Zub and Edwin Huang were doing sketches and selling a brand new volume of Skullkickers called Six Shooter on the Seven Seas that you should definitely pick up if you haven't already. Enrica Jang from Red Stylo Media was offering up some great deals on the Azteca series as well as collected editions of Shakespeare Shaken and Poe Twisted.
Also hanging out in Artist Alley was Ryan Colucci of Spoke Lane Entertainment with copies of the awesome Harbor Moon graphic novel. the dynamic duo of Comfort Love and Adam Withers were blazing away on custom sketch orders as well as selling copies of The Uniques and Rainbow in the Dark series.
There were so many cool displays and talented people in Artist Alley I don't think I'd be able to list them all here. Artist Alley was pretty packed with attendees all throughout the show as well. Here is a shot from Saturday: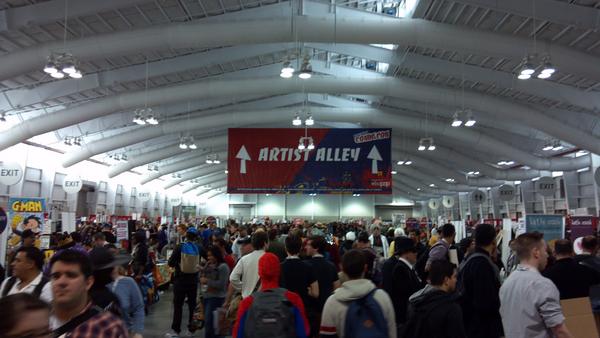 I had a great time at the convention and we'll likely get some reviews from new books up on Flames Rising before too long.
Did you attend the show?
If so, what were your highlights?
Let's hear 'em in the comments below!
Tags | nycc