Posted on October 16, 2012 by Matt-M-McElroy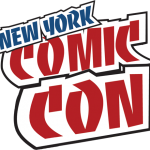 I just got back from New York Comic Con and I had a great time at the show. I was mostly there in my role as Marketing Director for DriveThruComics.com, but I somehow found the time to have a little fun for Flames Rising too.
There were certainly plenty of awesome Horror & Dark Fantasy items on display to catch any fans interest. One of my first stops was the Black Watch Comics booth to check out The North End of the World by David Hunsaker and Christopher Shy. Conveniently for me, the Monarch Comics booth with new and collected issues of the Witch Hunter series was right next door. This is also where I ran into Brian and Matt from the Secret Identity Podcast (of which Brian got me to do a short interview, yikes!) so this area kind of became my "home base" for the show. Great books, good friends and a cool place to hang out between other meetings and wandering the show floor.
[...more]