Posted on March 15, 2019 by Flames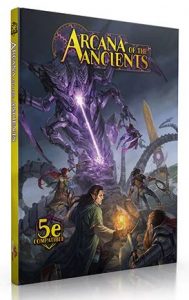 In the misty recesses of time, before the kingdoms and lands you know existed—before the elder elves, the dwarven ancestral lords, and even the dragons—civilizations undreamt rose and fell. And with their passing, they left behind remnants of the powers they wielded. They built citadels of metal, glass, and light, now hidden away in the deepest recesses of the world, and crafted wonders and harnessed energies we can only guess at. These places, objects, and even creatures all can be called Arcana of the Ancients.
Arcana of the Ancients is a sourcebook for 5th edition players and GMs to bring the wonders of mysterious technology and weird science-fantasy elements to their traditional fantasy campaigns. Designed by Monte Cook, Bruce R. Cordell, and Sean K. Reynolds, all of whom have years of professional design experience working on the world's most popular roleplaying game, this gorgeously illustrated hardcover sourcebook gives you everything you need to add a whole new element to your 5E game.
The Arcana of the Ancients Kickstarter has already doubled its funding goals soon after launch. The Kickstarter is running through April 12th and includes several stretch goals and add-ons. With lush illustrations by Kieran Yanner, Mirco Paganessi, Lie Setiawan, Federico Musetti, and others, this new 5E-compatible tome promises to be a stunning addition to your gaming library.


Tags | DnD, dnd 5e, monte cook