Posted on August 23, 2019 by Flames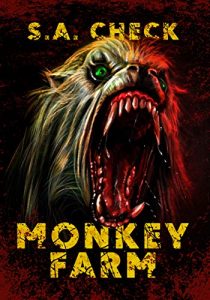 One of the vanguards of indie horror publishing, Necro Publications, releases Monkey Farm–its newest nightmare for mass consumption. How do you tell your best friend you may just be the one who murdered them, especially when they won't even admit they're dead? That's one of the questions author S.A. Check poses with the release of this fast paced, sci-fi horror mystery with enough surprise twists to keep readers guessing until the very end. Every town has that one place, that abandoned factory, or hospital, or even house that we've always been told to stay away from. What if those stories and rumors were true? What if those fables were bred from real fear?
Ask any kid in the town of Rumors Mill and they'll tell you that playing anywhere near the Monkey Farm was completely off limits. The dark branches of the woods surrounding the abandoned lab held whispers of secret government experiments and creatures that lurked the property at night on both two legs and four. So, it was no real surprise when young Effin and a group of friends decided to spend a fateful summer day in those woods, and one of them didn't make it out alive. That day cost Effin his family, his friends, and more than a bit of his sanity. When he left town to go live with his aunt, he never looked back.
Ten years and a sketchbook full of nightmares later, Effin's past finally catches up with him. A little girl's gone missing in those same cursed woods. He knows returning home means facing his own tortured past, but someone, or something, is calling him back. With the help of the only two people who still believe in him, the ghost of his long-dead best friend, and the girl he left behind, Effin begins a search for a missing child, but ends up not only unlocking the secrets of the Farm's checkered past but his own lost childhood.
Monkey Farm is the author's second book with the publisher, and his fourth published work of fiction. He's also been an active writer in the comic book community for the last several years, working on projects ranging from all-ages comics like The Three Stooges, Underdog, and Oggy & the Cockroaches, to contributing to titles such as Stargate Atlantis, Hatchet, Zorro, Beware the Witch's Shadow, and Volcanosaurus. His work in comics has been recognized by multiple entertainment and media-related outlets, and his run with The Three Stooges comics series was on display at Geppi's Entertainment Museum.
Necro Publications & Bedlam Press continues to produce ground-breaking works in the field of horror with their other recent releases of In the Year of Our Lord: 2202, The Bride Stripped Bare, and Shanti, publishing the best names in modern horror like Edward Lee, Charlee Jacob, Jeffrey Thomas, Gerard Houarner, Patrick Lestewka, Wrath James White, Mehitobel Wilson, and dozens of others through various short story collections, novellas and novella collections earning them multiple Bram Stoker nominations.
"This was one of those stories I just couldn't put down," said David Barnett, Editor-In-Chief of Necro Publications. "The story was just so smooth and well-paced, and it has all the trappings of a big house publication. We're excited to work with the author again, after working with him on his debut novel, Welcome to GreenGrass. His stories keep gaining momentum, and this is really his most ambitious work so far. I can't wait for fans to meet Effin and his friends, and the rest of the residents of Rumors Mill, human and otherwise."
"This is really just a story about two friends. One of those two just happens to be dead, but don't tell him that. It sort of irks him. Oswald Effin Jones, Effin to his friends, both the ones dead and living, is just an average guy who happens to have soul shattering nightmares ever since his "event" as a kid. He's been learning how to live with the cards life dealt him ever since. I definitely tried to kitchen-sink this story. We've got friendship. We've got the one who got away. We've got the ones who didn't get away, and the scars they were left with. There are some dark family secrets, hidden agendas, a really late library book, and, oh yeah – some monsters of the human and not-so-human variety. If all goes well, Effin might just make it out back of town alive. His sanity, maybe not so much."
Monkey Farm was released in select hardcover, paperback, and eBook versions on August 9, 2019, and is available through major online literary retailers such as Amazon and Barnes & Noble, and direct via the publisher's website at www.necropublications.com.