Posted on December 6, 2019 by Flames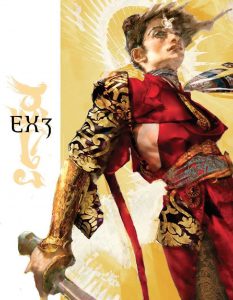 Rich Thomas, founder and Creative Director of Onyx Path Publishing, announced today a new corebook called Exalted Essence is planned for the popular Exalted Third Edition gameline.
"This is a project we've been thinking about for quite a while and we're thrilled it's moving forward. I'm beyond excited to be overseeing the creative direction of this book, which is being developed by Monica Speca and Neall Raemonn Price," said Dixie Cochran, the coordinating developer for Exalted. "We handpicked the Essence team, all of whom love and have worked on Exalted, very carefully and can't wait to see what they do with the outline and alpha write-ups provided!"
Exalted Essence will be developed by Monica Speca and Neall Raemonn Price; Exalted Third Edition developers Eric Minton and Robert Vance will also be involved as consulting developers while they continue to develop other books in the line. The new corebook's design is geared for new and existing fans who want a fresh and streamlined take on Exalted.
Exalted Essence will include:
* Ten Exalt player-character types presented in one corebook for the first time
* Universal Charms (including Martial Arts) that work across multiple Exalt types, as well as some Charms that are unique to specific Exalt types
* A brief overview of Creation so players and Storytellers can dive right into their epic adventures.
* Rules for Sorcery
* Storyteller Antagonists
"As a long time fan of Exalted, I'm thrilled to be working on a project that will help spread the joy of playing Exalted to all players — from newcomers to dedicated fans," said Monica Speca, Exalted Third Edition developer and writer.
Writers for Exalted Essence have been contracted, and work will begin in 2020. Once the manuscript is completed, a Kickstarter is planned for the new corebook.
Fans will be thrilled to know Exalted Essence is not a new edition of Exalted. Like its name suggests, the new title distills what makes Exalted Third Edition great into a new corebook and is designed to work with other books in the line.
To discuss Exalted Essence, join the Exalted community! Talk to fans, writers, and developers on these channels:
* Facebook: www.facebook.com/groups/830144713721974
* Onyx Path Exalted forum: http://forum.theonyxpath.com/forum/main-category/exalted
* Exalted Discord: https://discord.gg/uqCndAW
If you're interested in the new corebook, watch Onyx Path Publishing for updates.


Tags | exalted, high fantasy, ttrpgs