Posted on March 27, 2019 by Flames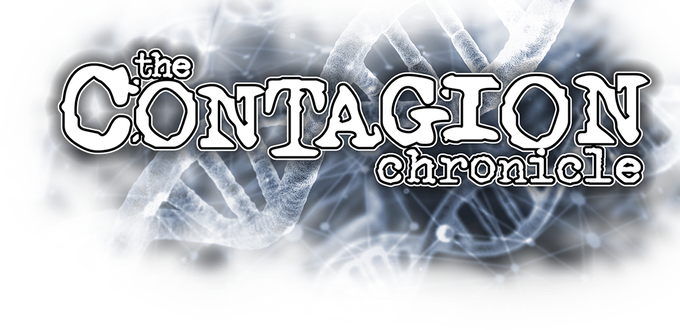 Rich Thomas, founder and Creative Director of Onyx Path Publishing, announced the launch of a Kickstarter recently to fund a prestige edition of the Contagion Chronicle, a crossover supplement based in the Chronicles of Darkness.
"I'm excited to introduce everyone to the Contagion Chronicle, the next major project in the Chronicles of Darkness! The Contagion Chronicle is the sum of a couple of years' work, as we finally get a game where vampires, werewolves, mages, and the rest can team up and work together, with setting and system to make such a union make sense," said Matthew Dawkins, the Contagion Chronicle developer. "It's been a delight to develop this project, and all the authors did fantastic jobs with the factions, powers, history, and settings for this game. I can't wait for all of you to give it a look and hopefully back it on Kickstarter!."
The Contagion Chronicle is an overarching compendium of chronicle hooks, riveting settings, and Storyteller aids to help present all the Chronicles of Darkness game lines in one interconnected story arc. In the chronicle, the Contagion acts as a motivational force and inspires the formation of factions where vampires, werewolves, mages, mummies, etc. come together in new and unique ways.
All Chronicles of Darkness game lines, which include Vampire: The Requiem, Geist: The Sin-Eaters, Mage: The Awakening, and Werewolf: The Apocalypse, are covered in this second edition-compatible book. In Contagion Chronicle, players have the option to step into the everyday shoes of mortals, or they could vie for power and control as a vampire, werewolf, changeling, and more.
The manuscript for the Contagion Chronicle has been completed, and chapters will be released during the Kickstarter to backers. Delivery is planned for 2020 to account for stretch goals and the prestige printing of this supplement. Standard digital and print editions will be released following fulfillment of the Contagion Chronicle Kickstarter.
Fans who want to join the discussion about the Contagion Chronicle can visit the Onyx Path forums or via a Facebook discussion group.


Tags | onyx path, world-of-darkness