Posted on June 17, 2021 by Flames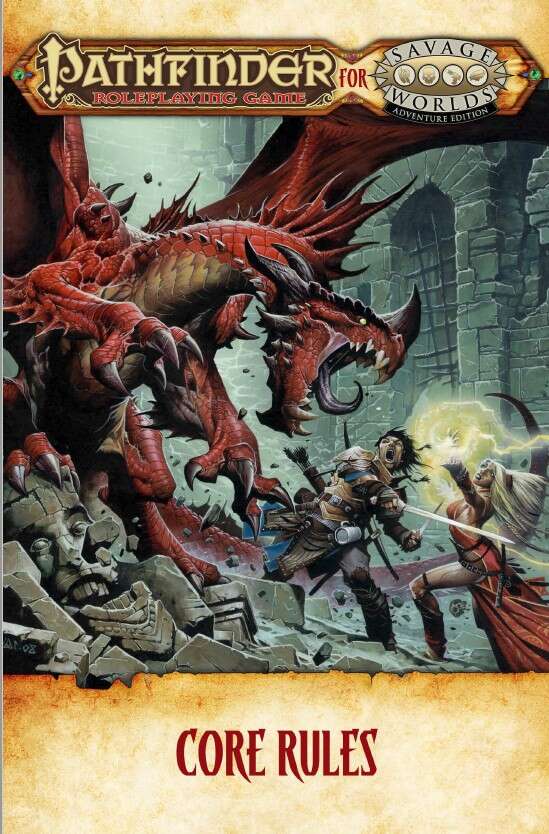 Adventure Awaits!
An ancient and evil undead thing rises in a dark dungeon. A long-forgotten horror stirs in the dark forest. A hungry and vengeful dragon awakes in forgotten mountains. A cry for help echoes across the world of Golarion. Brave heroes —the Pathfinders— answer the call. They are crafty rogues, powerful sorcerers, and deadly fighters. They are humans, elves, dwarves, gnomes, and halflings. They are heroes!
Pathfinder for Savage Worlds combines the "Fast! Furious! Fun!" of the best-selling, award-winning Savage Worlds game system with the incredible depth and excitement of Paizo's phenomenal Pathfinder Roleplaying Game and the world of Golarion. Create your own adventures or play one of the legendary Adventure Paths, starting with Rise of the Runelords!
This book contains the Savage Worlds rules, specially tailored for the world of Golarion. All you need are dice, a deck of playing cards for initiative, and some excellent friends to share your adventures with!
The Pathfinder for Savage Worlds Core Rules are now available in PDF format at DriveThruRPG.com!
Also available now from Pinnacle Entertainment Group:
Pathfinder for Savage Worlds Inner Sea Map
This digital full color poster map of the Inner Sea region is perfect for planning your adventures in the world of Golarion!
Pathfinder for Savage Worlds Archetype Cards Set 1
This is a set of 24 cards depicting the iconic Pathfinder characters at both Novice and Seasoned Ranks. Each 3.5″x5″ card features a ready-to-play character, ideal for convention games, pick-up games, or store play.
Tags | dungeons & dragons, pathfinder, savage-worlds