Posted on June 5, 2012 by Flames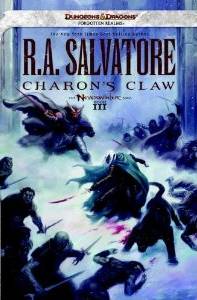 To celebrate the upcoming release of R.A. Salvatore's Charon's Claw on August 7th, Wizards of the Coast is thrilled to announce that Salvatore, a 24-time New York Times-bestselling author, will head out on a multi-city book tour this summer to meet fans and autograph copies of his newest novel.
Additional details about Charon's Claw and the D&D® suite of products can be found at DungeonsandDragons.com.
R.A. Salvatore 2012 Book Tour for Charon's Claw
The third book in the Neverwinter Saga, Charon's Claw follows Drizzt Do'Urden as he draws his swords once more to aid his friends. In this final book in the saga, Drizzt assists the beautiful elf Dahlia as she enacts revenge and helps an old foe break the bonds that have held him hostage for more than a hundred years.
August 6 – Redondo Beach, CA – Mysterious Galaxy Books (7:30pm – 9:30pm)
August 7 – Los Angeles, CA – Barnes & Noble – The Grove (7:00pm – 9:00pm)
August 8 – Menlo Park, CA – Kepler's Books (7:00pm – 9:00pm)
August 9 – Tacoma, WA – Joint Base Lewis-McChord, McChord Main Store (1:00pm – 3:00pm), Lewis Main Store (4:00pm – 6:00pm)
August 10 – Austin, TX – BookPeople (7:00pm – 8:30pm)
August 11 – Houston, TX – Space City Con
August 13 – Lexington, KY – Joseph Beth (4:30pm-6:00pm)
August 13 – Cincinnati, OH – Joseph Beth (7:30pm – 9:00pm)
August 14 – Columbus, OH – The Book Loft (7:00pm – 9:00pm)
August 15 – Carmel, IN – Barnes & Noble (7:00pm – 9:00pm)
August 16–19 – Indianapolis, IN – Gen Con 2012
September 1 – Atlanta, GA – Dragon Con 2012
About R.A. Salvatore – R.A. Salvatore is best known as the creator of the dark elf Drizzt, one of the fantasy genre's most beloved characters. With over 17 million books sold and numerous game credits, Salvatore has become one of the most important figures in modern epic fantasy. His first published novel was The Crystal Shard in 1988, and since that time Salvatore has published more than 50 novels, with 24 New York Times bestsellers to his name, including The Halfling's Gem, Sojourn, The Legacy and Neverwinter, Book II. For more information about R.A. Salvatore, please visit www.rasalvatore.com or find him on Facebook.
Tags | ra salavatore