Posted on September 13, 2011 by Flames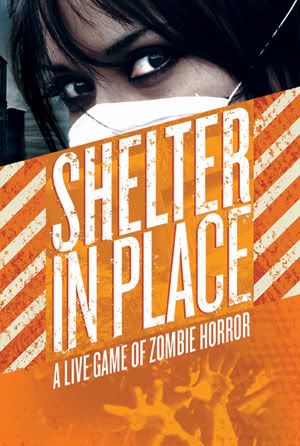 Shelter in Place is about survival, teamwork and fun. Designed for ten to twenty five players, the game captures the frenetic pace of a zombie movie in an action packed game. Players can take on the roles of Humans or Zombies in a desperate conflict to survive. Humans must use their wits to survive, making sacrifices in order to live through the night. The Zombies must use their brute, unrelenting strength and teamwork to overpower the humans and eat some delicious brains.
Shelter in Place blends all the fun of a good old-fashioned game of tag, with the camp and action of a zombie horror film. The system was created to be easy to read and understand for new gamers, but still a fun challenge to more experienced players. Shelter in Place comes with the option to add special "twist" characters who can change the game – from adding a cyborg to a vampire, these twist characters can make every game a surprise!
Shelter in Place can be played at a park, home, convention, as a team building exercise for a hip workplace, as a kids' summer camp game, or at a lighthearted wedding reception.
Shelter in Place is finished and ready to go to print. Your support will help us release Shelter in Place in our first print run, and ensure that we can bring the game to conventions and backyards everywhere.
Find out more and pledge your support for this game at Kickstarter: