Posted on November 1, 2018 by Flames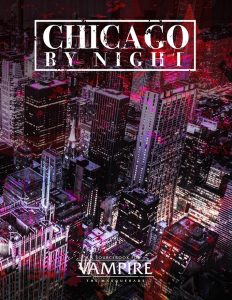 Rich Thomas, founder and Creative Director of Onyx Path Publishing, announced yesterday that the Kickstarter has launched for Chicago By Night, the company's first supplement for the newly-launched Vampire: The Masquerade 5th Edition corebook.
"I'm beyond excited for how the Chicago by Night Kickstarter will go! I truly think this is going to be one of the finest sourcebooks Vampire: The Masquerade has ever had in its run," said Matthew Dawkins, the developer for Chicago By Night and contributor to Vampire: The Masquerade 5th Edition published by White Wolf Entertainment. "It's a perfect supplement for players and Storytellers who have just embarked upon the fifth edition of the game, and it includes city building materials, over 40 characters for inclusion in your chronicles, chronicle hooks for Storytellers, and the clan a lot of players have been waiting for — Clan Lasombra. There's even more than that, but for that you'll need to check out the Kickstarter!"
Chicago By Night, which was announced during Gen Con: Indy 2018, expands, refreshes, and offers detailed information on one of Vampire: The Masquerade's signature cities. The supplement will include everything players and Storytellers will need or want to tie this iconic location into their chronicle. Highlights of the V5 supplement geared for players and Storytellers includes:
* Clan Lasombra profile with rules for their Discipline. Playable for the first time in the V5 line!
* Loresheets to help players incorporate Vampire's deep metaplot into character backgrounds.
* Dedicated chapter to help Storytellers build their own city with characters, coteries, story hooks, and more.
* Updated and new metaplot explaining the hierarchy of Kindred in Chicago and ways to incorporate characters.
Chicago By Night will employ the new Vampire: The Masquerade 5th Edition rules, and the manuscript is in its final stages. The newly launched Chicago By Night Kickstarter, which funded within hours of launch, is for a hardcover edition of this supplement and includes a special retailer-facing tier. Standard digital and print editions will be released following fulfillment of the Kickstarter.
Tags | onyx path, vampire the masquerade