Posted on December 16, 2010 by Flames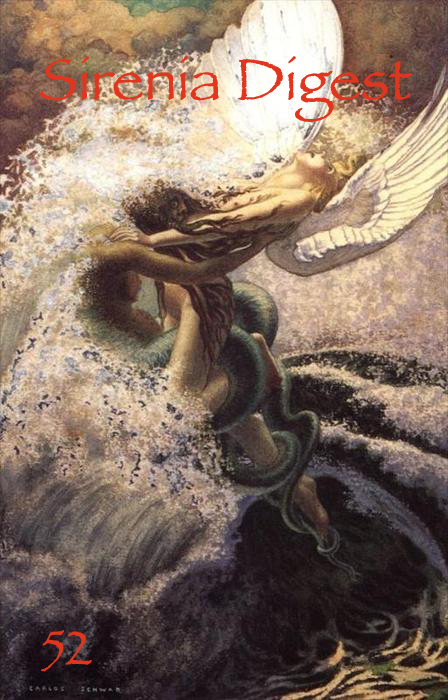 Sirenia Digest is a monthly subscription PDF-zine released by author Caitlín R. Kiernan. The stories are solidly weird fiction, with healthy infusions of erotica and Lovecraftian horror. (The adult-only warning on the website stems from both the themes of the works and their illustrations.)
I've been a subscriber for two months, now. My first readings were hurried, so I took advantage of the holiday downtime over Thanksgiving break to do a second reading of two recent Sirenia Digest issues (#58 and #59), to give each story my full, undivided attention. This time, I read them alone in a silent, darkened room in the wee hours of the night, with a giant picture window behind me, and silhouettes of writhing tree branches splayed across the floor.
It turns out this is the perfect setting for devouring Sirenia Digest.
What to Expect
Although Kiernan has been a novelist in her own right for 17 years, she's also a dedicated H.P. Lovecraft scholar and the Digest gives her an outlet for both her original material and stories derived from Lovecraft's work. The two issues I read may have been more heavily weighted on Lovecraft inspiration than normal, considering that she was preparing her address as the Guest of Honor for the annual HPL Film Festival as she was assembling issue # 58. I should mention as well that Kiernan considers the Derleth cohort to be shoddy impersonators who have mucked up the original Lovecraft universe with the concepts of "balance" and good vs. evil where there should be only brokenness and the impending doom of unstoppable forces. While I personally don't mind the balance construct — having read those later stories long before backtracking to the original HPL offerings — her clear preference for Lovecraft's starker foundations and their unyielding chaos is very present in these two issues.
Compared to Lovecraft, though, Kiernan's writing is so much better, and her reach far greater and more flexible. The short stories and vignettes she writes for the Digest allow her to slide into nightmare times and places, to coax things out of the darkness that really shouldn't be illuminated. The Digest's format is such that she can either visit these scenarios briefly, pulling back the curtain just enough, or indulge in a full-blown story with a beginning, middle and end, as the mood takes her. So far, the mix works well.
In addition to the stories, the author includes a prolegomenon — an introductory essay that gives context to her writing of those particular vignettes and the events surrounding the production of that issue.
The Stories Themselves
The offerings in these two issues include:
* Issue # 58: "John Four"; "Pickman's Other Model"; "The Dead and the Moonstruck" (55 pages; Oct. 2010)
* Issue # 59: "And the Cloud That Took the Form"; "On the Reef" (20 pages; Nov. 2010)
Lovecraft fans will appreciate "John Four" (a reference to Jesus and the Samaritan woman at the Well of Jacob), which is set after the return of the Great Old Ones, and "On the Reef," a ritualistic family reunion of sorts for Innsmouth expats. There isn't much I can say about "On the Reef" without breaking its spell, but "John Four" is my favorite story of the five. It's about the crushing weight of memory, the temporary relief of forgetfulness, and the more permanent relief in purpose amidst chaos, and it's the story that I find myself replaying in my mind over and over again. These two tales both use HPL's foundation to excellent effect, and leave many unanswered and unsettling questions, as they must. There are characters, yes, but these characters could only exist in these settings, and even then only at the whim of something truly awful.
I read "The Dead and the Moonstruck" with great delight, as well. It has less of the creeping Old Ones dread of the first two mentioned above, but is a modern rite-of-passage from the mythos of Kiernan's own novels (see Threshold, Low Red Moon, and Daughter of Hounds). Note that "less creeping dread" probably depends entirely on your familiarity with her novels and the inevitable, low anxiety a Kiernan fan can't help but feel for any of her protagonists — in this case, a young changeling child of the Cuckoo.
The other two stories were slightly weaker only by comparison, and after considering the whys and wherefores, I think my judgment is simply a matter of taste. I found myself skimming "Pickman's Other Model" in places, but I'm not a huge fan of the wordy exposition style a la Lovecraft's writing. As this story continues the conceit of "Pickman's Model," the author used the style and conventions of Lovecraft's original to good effect. (Intriguingly, I rediscovered the seeds of the hounds and changelings of Kiernan's novel-world during a re-reading of HPL's original short.) As for the other, for some reason I can't quite pinpoint, "And the Cloud That Took the Form" felt like an old X-Files episodes, to me — oddly enough, not the alien/conspiracy ones, but the spookier monster-of-the-week stories, tales of isolation and trepidation and monsters who look and act almost human but aren't. (Think: Eugene Tooms.) In this case, though, the "monster" to be feared isn't mimicking a human, but something far worse. This piece builds a strange, unsettling anxiousness that starts out slowly, and eventually reveals just how nervous we really should be about our place in the universe — and how it might feel to suddenly be confronted by that realization.
Production Quality
The Digest is completely author-driven, the modern equivalent of a zine; she writes the stories, does the layout and sends it out on a monthly basis, so while there are occasional typos and such, they're very minimal and don't really distract from the work itself. (I'm still trying to figure out how she finds the time to produce a monthly set of stories for her subscribers while also working on solicited stories and the next novel.)
The layout is definitely minimalist and functional, and there is little in the way of graphics and artwork. That said, artist Vince Locke usually contributes a key illustration to each story, and his moody black-and-white pieces — imagine monochromatic Arthur Rackham or Charles Vess illustrations gone horribly awry — fit perfectly in the two issues I've enjoyed so far.
The Bottom Line
At $10 a month, the subscription price may feel a bit pricey for a graphics-light PDF until you consider that the money goes straight to the creators, and you're getting original stories and illustrations that have not yet been published elsewhere. The writing is solid, and the stories only get better as they continue to percolate in the back of your mind. Don't let the price deter you; I knew about Sirenia Digest for roughly a year before finally deciding to swap out a couple of Starbuck's lattes each month for a story fix, and I'm still kicking myself for waiting so long.
If you're already a Kiernan fan — or a Lovecraft fan, for that matter — give serious consideration to taking the plunge with a full subscription. (For the game masters out there, this could work well as a monthly treasure trove of inspiration for mood-setting scenes and plot bits.) If you're unfamiliar with Kiernan's work but appreciate weird fiction and horror I'd suggest ordering a copy of issue #58 to test the waters, since you'll be able to sample both her Lovecraft-inspired works and a bit of her own world setting, as well. (You can request a copy via Kathryn Pollnac at crkbooks@gmail.com.)
Review by Shari Hill
Tags | caitlin-kiernan, dark-fantasy, lovecraft