Posted on November 27, 2009 by Steven Dawes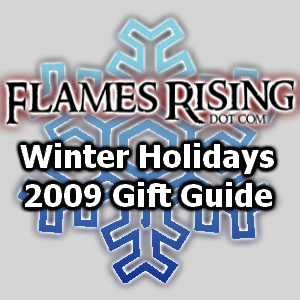 Horror and dark fantasy fans love getting (and giving) gifts just as much as anyone else. However, we certainly can be hard to shop for sometimes.
So, just what do you get for someone who loves the darker side of entertainment?
In this edition of the FlamesRising.com's Winter Holidays 2009 Gift Guide, we hear from FlamesRising reviewer and horror aficionado Steven Dawes. Steve talks about games, movies and books perfect to give as a gift for the horror fan in your life.
Batman: Arkham Asylum
Batman is back; and he's returned just in time as the inmates have taken over the asylum! The Joker is now in charge of Arkham Asylum and only Batman stands between him and the diabolical plans he's cooking up for Gotham City!
This is easily the greatest superhero game I've ever played! All of Batman's iconic toys and methods of dealing with the bad guys are available, and you're going to need them all to survive and save the city! This is the closest you'll ever feel to being "the bat" without putting on the cape and tights yourself. Fans of the 1990s Batman animated show are in for a treat as Kevin Conroy and Mark Hamill both reprise their roles as the voices of Batman and the Joker respectively.
Familiar allies like Commissioner Gordon and Oracle provide assistance while a variety of favorites from Batman's ever-impressive rogue's gallery will make appearances. I won't say who shows up (I won't ruin the surprises) but you can bet they are all itching to give Batman a violent and untimely death! Give the gift of Batman: Arkham Asylum and Gotham City will thank you for it.
Left 4 Dead 2
Just when you thought it was safe to leave the safe house and look for other survivors; Left 4 Dead 2 has just been released. And let me tell ya peeps, this game is infectious; yes, pun intended. If you thought the first L4D was a nightmare to survive, then buckle those seatbelts, 'cause this ride is only getting rougher from here!
You get more weapons to choose from (including melee weapons like chainsaws and crowbars). You get new and improved zombie types (the acid-spitting zombie is a new favorite of mine) to deal with. You get new maps with new types of objectives and methods of survival (this time in the New Orleans neighborhood) along with new styles of game play ("Realism mode" is the awesomest). This all adds up to many more hours of survivalist 7th heaven, all in one package!
For anyone who enjoys surviving a good zombie apocalypse and ESPECIALLY for those who loved the original L4D game, its time to reload and aim for Left 4 Dead 2! All the things you loved about L4D are here and then some!
And while I'm on the subject of zombies…
Dead Reign RPG
If I were a Chinese calendar, 2009 would be "the year of Zombie" for me. I've been marinated this year in Zombie lore via video games (see L4D above), novels (thanks to the reviewer books from the generous staff of "da Flames," movies, board games (Last Night on Earth) and more, but the most interesting zombie setting for me this year is the Dead Reign RPG from Palladium Books.
While there's a lot of familiar ground with the theme of surviving the zombie apocalypse present, writers Kevin Siembieda, Josh Hilden and Joshua Sanford have created a compelling world of adventure with some great twists and ideas. For example, there are many different kinds of zombies to deal with; some of which are very different and unfamiliar, making them extremely dangerous to new survivalists and old alike. Another great angle of the adventure is that the game begins about five months after the apocalypse took place. Heck, the story of exactly how the apocalypse itself took place is priceless!
The options of characters are plenty, including Scroungers, Soldiers, the "Half Living" (not a quite a zombie, but not quite human anymore either), zombie-killing experts called the "Reapers," the "Shepherd of the Damned" who seek out and help lost and confused survivors find safety, and even the "ordinary" survivors who use whatever skills and weapons they have and take up the fight against the undead armies. Of course, zombies aren't the only issues the player's characters will deal with; there's "Death Cults," Retro-Savages, madmen, psychopaths, raiders, paranoid survivalists and other menaces to deal with daily.
There are tons of adventures just waiting to happen under the tried and true Palladium game mechanics. Lots of random encounter tables, lots of adventure seeds and ideas and lots of fun to be had! And for even more zombie-survival lovin', pick up a copy of both the sourcebooks, Civilization Gone and Dark Places for even more zombie types, character classes, menaces, equipment, adventure seeds and fun!
Beyond the Supernatural RPG (2nd Edition)
Simply the greatest modern-day horror RPG on the market, Beyond the Supernatural by Palladium Books is a masterpiece! Written in a way as only Kevin Siembeida can write it, this book is overflowing with atmosphere, horror, suspense and the supernatural! Plenty of overview and insight of living in a world that doesn't believe in the supernatural; and those few who live in this world and yet apart from it simply because they know the truth.
The world is full of the supernatural, hiding from within the shadows (or in some cases out in plain sight) and taking advantage of humanity's ignorance with near impunity. Humanity's only protection are the seemingly hopeless outnumbered few who are armed with knowledge, weapons, skills or psychic abilities to destroy these horrors when they find them. The character classes range from Parapsychologists, to a variety of psychic (ranging from Mediums to Pyrokinetics) to ordinary people, each with their own talents and resolve to deal with the supernatural.
Written with an extremely cool and unique gaming mechanic system set within the otherwise familiar Palladium gaming style, BTS is a book that's overflowing with adventure, mystique, horror and style. Look for additional BTS sourcebooks coming in 2010; which if all goes well, one (or two) of them will be written by yours truly *blushes*.
"Dark Hollow" and "Ghost Walk" by Brian Keene
A few months ago I reviewed Urban Gothic and found it to be a hidden treasure. Since then my interest in Brian Keene's work has been piqued and I've since followed up with the novels Dark Hallow and its sequel Ghost Walk. As I suspected, Brian Keene is the real deal; he can write some seriously messed up scribes and I for one salute his talents!
Dark Hollow is a true "victim's" tale about a nearly broken man named Adam Senft. Early on we learn that he's got a crumbling marriage after two miscarriages and yearns to write that next big novel after his first one became a bigger seller than anyone expected. Dealing with the pressures, his only escape and joy come from a bond with his cowardly dog "Big Steve." On the first day of spring, while Adam's walking Big Steve in what the locals say is haunted woods, he witnesses something supernatural and extraordinary. In the days following this event, the women in town begin to disappear, and as Adam begins to put the pieces together, he realizes his wife is also in danger. Lots of mythology, pow-wow magic, discovering the truth about LeHorn's Hollow and Brian's ability to grab you at page one and never let go is all here.
Ghost Walk takes place two years later. Ken Ripple has poured his heart and soul into "The Ghost Walk," a haunted attraction designed as a winding trail that goes through Lehorn's Hollow. However, the woods are still haunted and something much more terrifying has been unleashed from within the woods. While a familiar character resurfaces from the first book as new ones are introduced, the central character here is Levi Stotzfus; the most bad ass ex-Amish pow-wow magus you will ever come across. Unlike the last book, Levi's talents allows him to immediately realize the danger the planet's in, and he's now in a race against time to stop it! Levi has become a new favorite hero of mine and I look forward to his next adventure A Murder of Crows coming next year. Brian's got mad writing skills and I predict his name will one day rank up there with two other "special K's," Koontz and King!
My Bloody Valentine 3D on DVD
My Bloody Valentine 3D is not only my favorite horror flick of 2009, but its one of the best hack and slashers to be released in some time in my useless opinion. For those moments in life where I just want some cheap thrills, lots of well executed slashing and killings, a compelling "who done it" script, a truly terrifying looking killer (that miner's suit & pick axe scared me stupid) and some awesome bits of nudity (god bless Betsy Rue for her courage to strip down and strut her stuff), this one always makes me one happy schmuck!
Even better news is that the 3-D effects only made the film that much better to watch! The pick axes and body parts will fly right at you! The DVD offers a 2-D version, but I assure you that once you've been stabbed by this bad boy in 3-D, you'll never go back! The perfect gift for the slasher fan that has everything but this DVD.
Steven Dawes – 2009
Tags | video-games, zombies