Posted on March 8, 2012 by Flames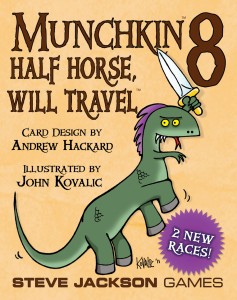 Over the years, FlamesRising.com has played a number of Munchkin games including Munchkin Cthulhu, Munchkin Bites and Munchkin Bites 2: Pants Macabre, and Munchkin Zombies.
Today, we get to offer you a sneak peek at the latest expansion to classic Munchkin.
Dubbed Munchkin 8 – Half Horse, Will Travel, this is the first expansion in two years and it offers new types of cards for players to use in the game. You'll find Centaurs and Lizard Guys, two classic fantasy races that finally get a full color Munchkin treatment. You'll also receive brand new Race and Class Enhancers like the one pictured here!
[...more]