Posted on March 8, 2012 by Flames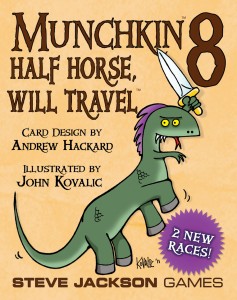 Over the years, FlamesRising.com has played a number of Munchkin games including Munchkin Cthulhu, Munchkin Bites and Munchkin Bites 2: Pants Macabre, and Munchkin Zombies.
Today, we get to offer you a sneak peek at the latest expansion to classic Munchkin.
Dubbed Munchkin 8 – Half Horse, Will Travel, this is the first expansion in two years and it offers new types of cards for players to use in the game. You'll find Centaurs and Lizard Guys, two classic fantasy races that finally get a full color Munchkin treatment. You'll also receive brand new Race and Class Enhancers like the one pictured here!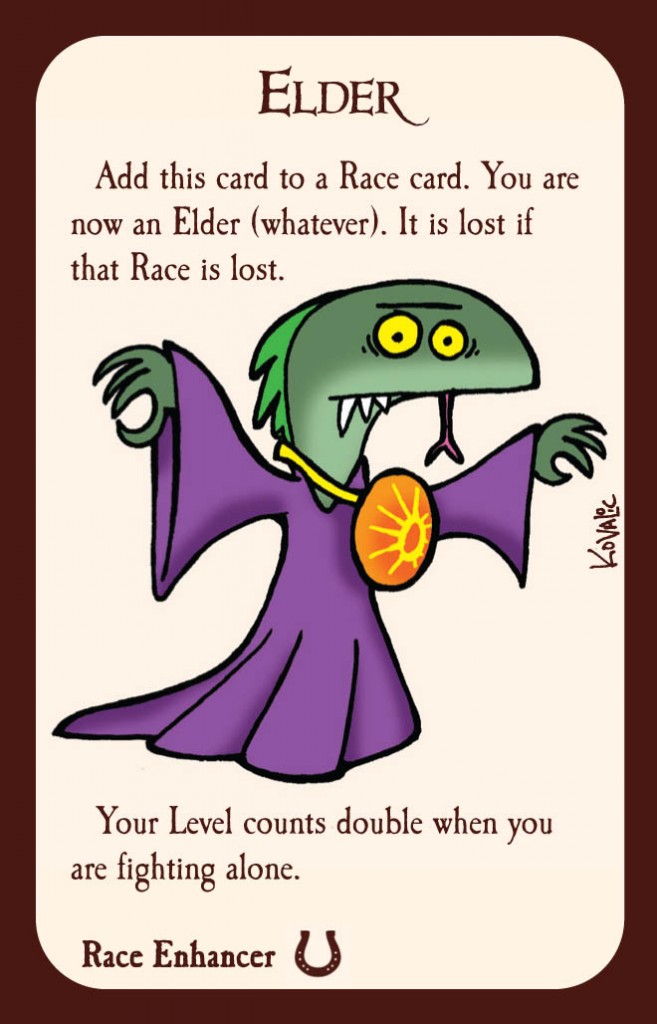 What you're seeing in this post, is the Elder Race Enhancer. Here's what Andrew Hackard, the Munchkin Czar, had to say about this card:
"We introduced Race Enhancers in Munchkin Dice (later Munchkin Reloaded), and fans have asked for more for years! The Elder card pokes fun at the many ancient, wiser races found in fantasy literature."
Munchkin 8 – Half Horse, Will Travel is shipping to stores now, so if you're interested in picking this expansion up, head on over to your friendly hobby game store!
For more about Munchkin, don't forget to visit www.worldofmunchkin.com. If you want to see more card previews from Munchkin 8, be sure to hunt around for them. We're just one of a few sites displaying cards today on March 8th!
Tags | john kovalic, munchkin, Steve Jackson Games