Posted on August 11, 2016 by Flames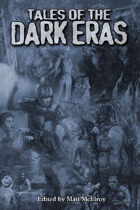 Walk through the ages…
As a companion to Chronicles of Darkness: Dark Eras this anthology reveals secrets of the mystics, whispers rumors of the dead, and shines a light into the darkest corners of the world.
This collection includes historical stories based within the shadowed past of Vampire: the Requiem, Mage: the Awakening, Werewolf: the Forsaken, Changeling: the Lost, and other Chronicles of Darkness settings.
In the Chronicles of Darkness…
Explore the shadows with tales by Howard Ingham, Malcolm Sheppard, Pete Woodworth, Renee Ritchie, Jess Hartley, Monica Valentinelli, Danielle Harper, Matthew McFarland, Mike Tomasek, Eric Zawadski, Meghan Fitzgerald, and Dennis Detwiller.
Tales of the Dark Eras is available now in eBook and Softcover editions at DriveThruFiction.com!
Tags | modern-horror, onyx path