Posted on January 13, 2023 by Flames
DriveThruComics, a part of DriveThruRPG's network of online shops that focuses on digital comics, graphic novels, and related content just launched their annual New Year, New Hero Sale. There are 375 digital titles 25% Off for a limited time. The goal is introduce you to new characters and new publishers and try some new comics!
While many of those are focused on superheroes, there are also a number of excellent Horror and Dark Fantasy graphic novels. We've made a short list of a few of our favorites here at Flames Rising!
Check them out and let us know what your favorite comics and graphic novels are!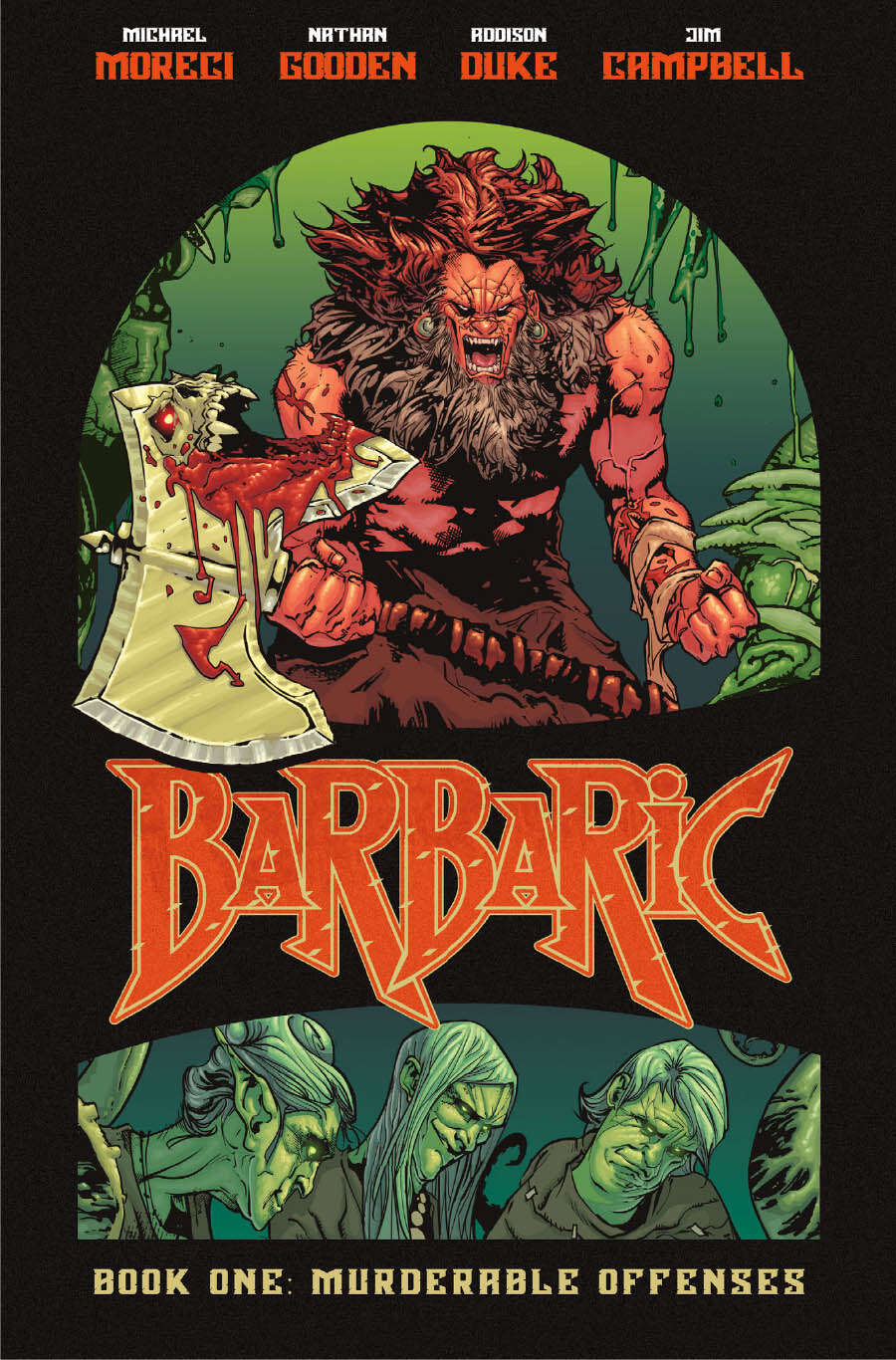 Barbaric Volume 1 from Vault Comics – Owen the Barbarian has been cursed to do good with what remains of his life. His bloodthirsty weapon, Axe, has become his moral compass with a drinking problem. Together they wander the realm, foredoomed to help any who seek assistance. But there is one thing Owen hates more than a life with rules: Witches. By Michael Moreci, Nathan Gooden, and Addison Duke.
Wolvenheart Vol. 1: Legendary Slayer from Mad Cave Studios – Sterling Cross is the most prolific time-traveling, monster slayer in Wolvenheart, an organization led by the legendary professor Van Helsing and dedicated to monitoring anomalies across the space-time continuum. By Mark London and Alejandro Giradlo.
SKULLKICKERS Vol. 1: 1000 Opas and a Dead Body from Swords & Sassery – Two mercenaries are entangled in a high-class assassination plot, and nothing – werewolves, skeletons or black magic – will stop them from getting paid. By Jim Zub, Edwin Huang and Chris Stevens.
Monsterology 101 from Renegade Arts Entertainment – Investigating the forgotten corners of our world, one monster at a time. By Gordon Rennie, PJ Holden, Jim Campbell, and Steven Denton.
Death Vigil Volume 1 from Top Cow Productions – Gifted? Join the Death Vigil in their ongoing war against the ever-growing power of the Primordial Enemy! By Stjepan Sejic.
Queen Sonja Omnibus Volume 1 from Dynamite Entertainment – You may have heard the stories of a certain barbarian at the tail end of life living as a king, now it's time to read about the Queen! Before she was a warrior, Red Sonja was a wild child in the Hyrkanian wilderness, before she ruled the empire of Emora, she thieved the streets of Pah-Disha. By Luke Lieberman, Arvid Nelson, Joshua Ortega, and Jackson Herbert.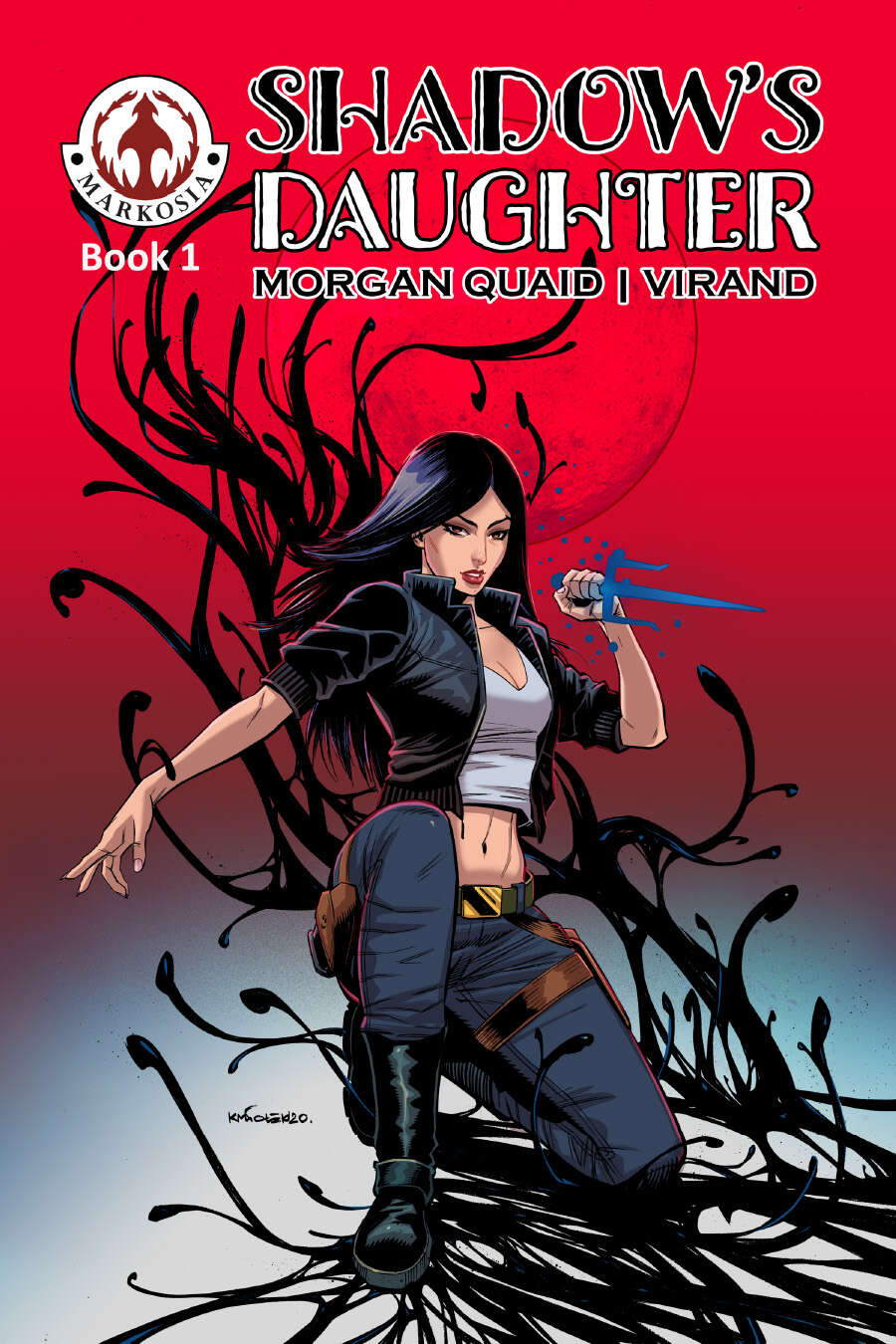 Shadow's Daughter: Book 1 from Markosia Enterprises – A supernatural, post-apocalyptic comic set in a world beset by preternatural beings and natural disasters which coincide with the rising of the demon moon. At its heart, this story is a crime/mystery narrative featuring a bounty hunter named Summer Rain who can bend shadow to her will and use it as a weapon. By Morgan Quaid and Virand.
Judge Dredd: The Dark Judges from 2000 AD – They came from Deadworld – twisted, ungodly versions of Judges, with enough power to destroy the world! Led by the cadaverous super-fiend Judge Death, Judges Fear, Fire & Mortis share a chilling ethos – as only the living can break the law, all life is crime! by John Wagner, Alan Grant, Brian Bolland, Brett Ewins, Cliff Robinson, and Robin Smith.
The Scourge Volume 1 from Aspen Comics – The skies of New York City are no longer safe. In mere hours, the greatest metropolis on the planet is turned into an island of horrors, as a virus rapidly advances throughout the city transforming its citizens into savage, bloodthirsty gargoyles!! By Scott Lobdell, Eric Battle, and David Curiel.
Atlantis Wasn't Built for Tourists TPB #1 from Scout Comics – Lucas Lewis drifts into Atlantis County, Oregon wanting nothing more than a hot meal and a soft bed for the night. What he finds instead is a small town in thrall to eldritch creatures lurking in the surrounding wilderness, possibly guided by an even more sinister force. By Eric Palicki, Wendell Cavalcanti, and Mark Dale.
Bonus!
There are a handful of tabletop RPGs in the sale as well (a crossover with the New Year, New Game Sale over at DriveThruRPG)! If you are looking for a new RPG now is the time to scoop them up!
You can save on the Hellboy RPG from Nightfall Games, the Root RPG from Magpie Games, Legendlore from Onyx Path Publishing, and Mouse Guard 2nd Edition from Archaia Entertainment!
Tags | dark-fantasy, drivethrucomics, horror comics