Posted on October 2, 2009 by Flames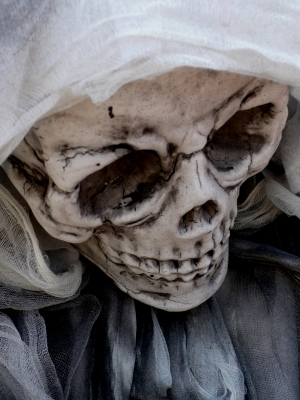 Hello, horror fans. As the ghost of Halloween past, I feel it is my duty to remind you that the past is sometimes more enticing than the present.
This time last year, FlamesRising.com offered you a series of treats that came in a variety of flavors.
Throughout October, several horror authors and game designers lent a hand (and even a finger or two) to record their tales describing a broad range of monsters — including ghosts not unlike myself.
The idea behind the Halloween Monster Madness collection, was not only to provide you with a dark glimpse into the strange and bizarre minds of these writers, but also to get you in the mood to celebrate a monstrously good Halloween.
To help jog your spotty memories, I'm offering you a second chance to take a trip back through the gossamer cobwebs, to last year's Halloween celebration. Give these fine stories a read, won't you?
Halloween Horror Flash Fiction Series
Reflections by Jess Hartley
The Deep-Seated Bogey by Will Hindmarch
The Meh-Teh by Jason L Blair
The Hollow Wee' Un by Matt Forbeck
The Fogcrawler by Jason Thorson
The Scarecrow by Bill Bodden
Bykovsky's Letter by Malcolm Craig
Skulkers-in-the-Piles by David Hill
The Killer by Chuck Wendig
The Lost Girl by Matt M McElroy
The Room by John Wick
Corpse Bug by John D. Kennedy
The Kragethogil and the Reapers by Monte Cook
Red Head by Filamena Young
Cheap Labor by Jared A. Sorensen
Quisivore by Eddy Webb
Quinkana Prodigius by Scott Lette
Hounds of the Morrigan by Alana Abbott
Glaring Hunter by Jeff LaSala
Biting Water by Preston DuBose
Babylonian Mummy by Monica Valentinelli
The House Spider by Richard Dansky
Tabbinius Cats by Eloy LaSanta
The Werewolf of Bedburg by Jason L Blair
Wastelands Stalker by Jensen Toperzer
Heamogoblin by Gregor Hutton
Tear-Drop Rattler by Joe Rixman
Jimmy Sparks by Todd Cash
Massapoag by Jason Morningstar
Falling for Her by Jess Hartley
Cob's Ladder by E. E. Knight
Are you looking over your shoulder yet? If not, I'd like to share with you a new monster in honor of last year's collection. This yeti comes to us from an artist named Jason Moody, who's colorful work can be seen in the horror comic SCARLET VERONICA.
In addition to the Halloween Monster Madness collection, the folks at FlamesRising.com slaved over poorly-lit candles to bring you news, articles, reviews and other interesting goodies. After talking to the ghost of Halloween present, I happen to know that they'll be providing more tricks and treats for you this year. From costume articles to free horror movies and a few, "fun" surprises, be sure to keep your eyes peeled and your flashlight ready. While Halloween 2008 was definitely one to remember, it appears that this year's holiday may be even better.
I'm afraid that's all the time I have. For whatever reason, this definitely seems to be my busiest time of year. After all, there's a lot of people out there who haven't even carved their pumpkins yet. I guess it's time to give them a push in the right direction.
Scare thee well, horror fans. Scare thee well.
Photo Courtesy of ThadZ on Stock.xchng.
Tags | Flames Rising, flash fiction, halloween horror, monsters