Posted on June 24, 2011 by Jason Thorson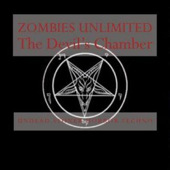 Available at Amazon.com
John Morrone, veteran writer for the horror webzine Bloody-Disgusting.com, is unleashing his musical talents on the world in the form of Zombies Unlimited. According to the official website, Zombies Unlimited is dedicated to creating low-cost, original music for independent horror and sci-fi movie soundtracks. This music comes to us in the form of techno, a genre I associate with cheerleading, raves, and clubs I wouldn't patronize. But make no mistake, Zombies Unlimited is creating some of the most unique techno and electronica possible and as a longtime professional musician of the old school variety, I certainly appreciate ZU's musical aesthetic despite my unfamiliarity with the tropes of these genres.
Zombies Unlimited recently released two albums – The Devils' Chamber and Closer to Death. I've reviewed them both. You'll find the review for Closer to Death at RavenousMonster.com. Meanwhile, please read on to get the graveyard dirt on The Devil's Chamber, Morrone's first non-soundtrack, stand alone ZU album and an official attempt to launch a new musical subgenre: Horror-Techno.
The Devil's Chamber is full of giant, ominous techno beats featuring pulsing and pounding subsonic bass with sweeping synth-chords and samples weaving between snares, high hats and other percussion. The bulk of the album is mostly up-tempo and employs dark, uncomfortable, and foreboding sounds rather than trippy or futuristic ones. Many songs have a narrative quality to them such as 091101 which uses variations in tone and texture as well as news samples to musically tell the story of the 9-11 attacks on the U.S. and the aftermath.
Morrone's use of samples from horror movies is multifaceted, composing elements of theme and tone and many of which are used as elements of percussion. While real life horrors are represented by the aforementioned 091101, it should go without saying that the vast majority of the songs are based on horror movies such as The Thing 1.2 or an amalgam of several movies representing an overall theme such as Human Flesh.
The album starts incredibly strong. The opening few tracks' high energy and tight conceptual focus actually elicits a visceral fear response at times and sets the bar incredibly high. This success has an unfortunate consequence in that the album hits a lull. It happens during ZU's ode to The Thing which relies too much on samples from the film rather than striking a balance between samples and musical passages. The abundance of samples just doesn't convey the energy that a musical representation would have. Within a song or so, the energy picks up again and remains strong for most of the album's remainder while its focus remains hit-and-miss.
The final analysis is clear, though: Horror-Techno is a concept that works, fantastically at times and it holds great potential. It's also a genre with the potential for great variances (See my review of ZU's other new album, Closer to Death). Over all, The Devil's Chamber is a unique and no nonsense collection of sonic horror that will crush your soul provided you play it through a capable stereo.
Review by Jason Thorson
Tags | zombies