Posted on June 2, 2021 by Flames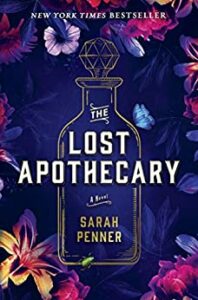 Written by debut author Sarah Penner, The Lost Apothecary is a book about poisonous endings—some deadly, some not. This London-based story begins by slowly weaving threads narrated by three heroines in their respective time periods. Nella Clavinger is a healer-turned-poisoner who helps women rid themselves of their vile lovers, husbands, and fathers in 1791. Eliza is a twelve-year-old handmaiden who's drawn into Nella's secrets after running an errand for her mistress.
Caroline is a woman re-examining her childless marriage after she discovered her husband had an affair. The connection between the past and present isn't clear until Caroline, who flew to London to mark her anniversary alone, discovers a strange bottle while mudlarking. Caroline quickly becomes obsessed with her find and unlocks the lost apothecary's deadly secrets with a local librarian. When her troubles resurface, Caroline must balance the demands of her present with her investigation to find closure and begin anew.
At its core, The Lost Apothecary is a well-researched, thoughtful novel about womanhood and toxic relationships that offers scathing commentary on 18th century class and privilege, while establishing a clear need for stories about endings in all their ugly and cathartic forms.

This review was written by Allie Brooks and has been published with the author's permission.


Tags | dark-fantasy, novel, review