Posted on May 20, 2009 by Kenneth Hite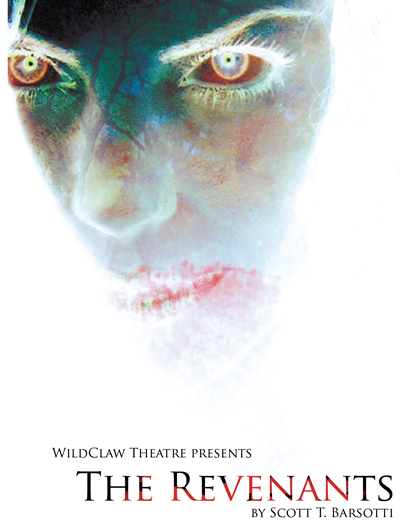 Chicago's Wildclaw Theatre company takes, as its mission, the restoration of horror to its rightful place on the stage. Its previous productions include theatrical adaptations of Arthur Machen's "The Great God Pan" and H.P. Lovecraft's "Dreams in the Witch House," showing a solid grounding in the classics. Their newest show is the Midwest premiere of Scott T. Barsotti's The Revenants, a drama of love and zombies.
Without spoilering anything, I can say that the play is a thoroughly successful melding of the relationship drama and the zombie apocalypse; neither component was bolted on after the fact, and each provides vital momentum and plot turns for the other. WildClaw'sWitch House also concerned apocalypse, though interestingly a less personal — and more cataclysmic — one than Lovecraft's story. It, also, featured a relationship drama, although one cast as a parallel investigation; a despairing Thin Man story wherein Nick and Nora meet only for the catastrophe.
The Revenants, by contrast, is all about contact — enforced contact. Gary and Karen, two survivors of a zombie apocalypse, are hiding out in a basement with Gary's wife Molly and Karen's husband Joe — both of whom are zombies. (They're essentially chained up, like the experimental subject in Day of the Dead. And while I'm inside these parentheses — isn't it strange that we now have an essentially universal understanding of a zombie apocalypse? You still can't make a vampire movie without setting it up, but "zombie apocalypse" is apparently like "country house murder" or "Thanksgiving dinner." It's a stock event you set drama against, not drama itself any more.) Joe and Gary are long-time best friends, and Karen believes that Joe is "alive somewhere in there." Karen's feelings toward Molly are far more ambivalent, which introduces only the first unbalanced moment in the steadily collapsing "bottle drama" gyre that has marked almost all worthwhile zombie drama since Romero's Night of the Living Dead. The zombified (but how fully?) Molly and Joe provide chorus and counterpoint to Gary and Karen's increasing stress and tension, as we uncover more of their past and witness their eroding present. This isn't etiolated Harold Pinter, though; Revenants is horror all the way — especially if the notion of missing, broken, or mutilated love is horrific. Or the notion of love, like zombification, destroying your personality, your history, your free will …
The WildClaw team has two great advantages over other similar off-off-Loop companies. The first is their willingness to take risks — presenting horror on stage among them. The second is their technical nous; WildClaw reliably punches well above its weight in lighting, set design, sound, makeup, blood work, and (in this play) fight choreography. Revenants displays both those advantages to, er, great advantage. They don't stint the acting, either.
The cast is also good, with the standout being Jenny Strubin's Karen. Brian Amidei is probably the best actor on stage (based on his Witch House chops) but the role of Joe calls for little more than presence, alternately menacing and brutalized. Oh well, nobody takes a part as a zombie for the dialogue. That said, the zombie "dialogue" is always good — menacing gutturals, contrapuntal groans and growls, and just the tiniest torturous hints of humanity. The director, Anne Adams, balances the zombies (mostly in the background) and the survivors (mostly in the foreground) deftly — there's always something going on, and nothing is ever blocked or walked over. There's even a gun, which gets used. Chekhov would approve, as would George Romero.
In other words — go see it; it's playing through May 24. See it with someone you'd shoot through the brain, or chain up in the garage, should it come to that.
Review by Kenneth Hite