Posted on June 1, 2017 by Flames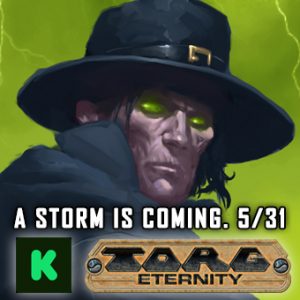 Torg Eternity is a table-top roleplaying game based on the original 1990 version of Torg created by West End Games. It has been re-imagined and updated for the Near Now. Now, you can play a Storm Knight in this RPG published by Ulisses Spiele in today's setting. The Torg Eternity Kickstarter has already funded! Now, onto the stretch goals.
Here's more information about this re-imagined cult classic RPG:
The "High Lords" came from other cosms—other realities—conquerors joined together to steal the Earth's living energy…to consume its very Possibilities!
Each Reality Raider brought his or her own reality, or "cosm"…
…from the dark fantasy of Aysle…
…to the technological oppression of the Cyberpapacy…
…the savagery and exploration of the Living Land…
…the diabolical pulp villains of the Nile Empire…
…the Gothic horror of Orrorsh…
…the action and intrigue of Pan-Pacifica…
…and the terrifying, demon-ruled wasteland of Tharkold!
The High Lords impose their reality and transform everything within, draining the Earth of its Possibilities in the hopes that one of them will become an ancient and all-powerful being called the "Torg!"
The Storm Knights are agents of the "Delphi Council," an international organization led by Quinn Sebastian to counter the High Lords and their many forces. Join the fight and you can play a….
…monster hunter from Orrorsh armed with alchemical creations, magical medals, or a "Slayer's Gun" loaded with various bullets carved with cryptic runes…
…heretical cyberwitch, valiant priest, or resistance fighter decked out with stolen cyberware, battling the Anti-Pope in the technologically oppressive world of the Cyberpapacy…
…knight, wizard, or elf of Aysle, including the fantastic dwarven "Dragon Warriors" who wear armor forged with amazing enhancements and steam-powered devices of doom…
And so much more! The Torg Eternity Kickstarter has already funded, and the publisher is now raising funds for stretch goals–which include introductory adventures written by your favorite game designers! Fun!


Tags | rpgs