Posted on November 22, 2021 by Flames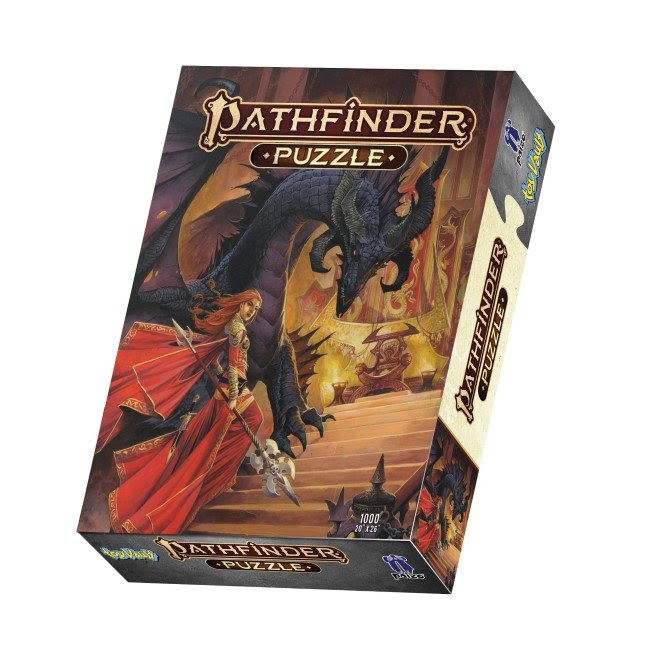 Toy Vault, Inc. – in partnership with award winning role playing game publisher Paizo Inc. – is announcing the release of two new 1,000-piece jigsaw puzzles featuring artwork from the exciting and popular Pathfinder fantasy role-playing game franchise.
"The Pathfinder RPG has such a rich and expansive catalog of artwork from which to make high quality jigsaw puzzles," said Tony Smith, Director of Toy Vault. "I'm proud of the two newest puzzles recently released in our growing Pathfinder puzzle line. I think they are a must-have item for anyone that's a fan of world class fantasy art."
"The previously released Pathfinder Core Rulebook and Pathfinder Bestiary puzzles were received with great enthusiasm and we are thrilled that Toy Vault is expanding the line with the Pathfinder Gamemastery Guide, and Pathfinder Lost Omens: Gods and Magic covers," said Erik Mona, Publisher and Chief Creative Officer at Paizo. "Artists Wayne Reynolds and Ekaterina Burmak bring the world of Pathfinder to life in vivid detail, and we can't wait to share their work with jigsaw puzzle lovers."
Pathfinder artists Wayne Reynolds and Ekaterina Burmak are the talent behind the brilliant images used for these puzzles which showcase paintings from the covers of the Pathfinder RPG Gamemastery Guide, and Lost Omens: Gods and Magic rulebooks. When complete, the puzzles measure approximately 20″ x 26″ and are composed of thick, quality cardboard pieces which make preservation of the puzzle for framing and display easy. All of the pieces come in a resealable plastic bag, and a handy reference sheet is included with each puzzle.
Toy Vault released the first two puzzles based on the Pathfinder Roleplaying Game in January. All four puzzles are currently available in stores and online for an MSRP of $24.99.

Tags | paizo, pathfinder