Posted on February 29, 2020 by Flames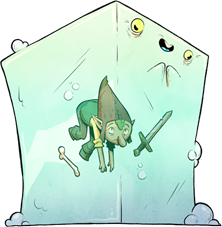 It's time for Monsters & Mayhem! Available starting today, Wizards of the Coast is ready to throw down with Dungeon Mayhem: Monster Madness – the third iteration of Dungeon Mayhem, the easy-to-learn, family-friendly, D&D card game that pits the wits and brawn of a party of adventurers against each other. Dungeon Mayhem: Monster Madness builds on the success of the original game and its expansion, Battle for Baldur's Gate, with each player embodying one of six epic Dungeons & Dragons monsters illustrated by Cam Kendell. Dungeon Mayhem: Monster Madness is available in stores everywhere starting now and retails for $24.99.
In Dungeon Mayhem: Monster Madness, each D&D monster has their own way to charm, crush, disintegrate, or devour their foes. These new decks are fully compatible with all previously published Dungeon Mayhem decks and all of the cards, plus tokens, can be stored in the beautifully designed, monster-sized box. Fans can also enjoy bringing more adventurers into the fold with the addition of rules to include up to 6 players.
For more information about Dungeon Mayhem: Monster Madness and Dungeons & Dragons, please visit dungeonsanddragons.com.