Posted on November 27, 2009 by Flames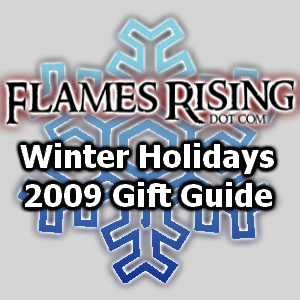 It may be the day after Thanksgiving here in the U.S., but to many folk it's also called Black Friday, the biggest shopping day of the year.
Whether you're planning on shopping today or online later, we've asked some of our FlamesRising staff to write up some gift ideas for you in our Winter Holidays 2009 Gift Guide.
Throughout the day today, we're going to offer you some horror movie, tabletop and video game and horror novel recommendations for you to read through.
We hope that FlamesRising.com will help you find "the" perfect gift for the horror fan in your life. Watch for more periodic updates as we cover special winter holiday offers and provide you with a few unusual gift ideas.
To get us started, editor-in-chief of FlamesRising.com, Matt M McElroy, and author/review Alana Abbott, offer a few "must-haves."
Special Message from Matt M McElroy, Editor-in-Chief
Hi folks, it's hard to believe that we're just about to go through another round of winter holidays. Seems like we were just at GenCon: Indy not that long ago, but here we go again. I'd like to start off our Winter Holidays 2009 Gift Guide by offering a few picks; be sure to keep reading for some more gift ideas.
Our reviewers were really excited to suggest some ideas for you, and I hope you enjoy reading about these horror games, movies, books and other goodies.
Thanks for reading!
Mouse Guard: Winter 1152 – Fantasy fans of all ages got hooked on the first part of the series, Fall 1152 and gamers have had a lot of fun with the Mouse Guard RPG designed by Luke Crane. The Mouse Guard series by David Petersen continues to rank among my favorite comics of all time.
Winter 1152 picks up the story shortly after Fall 1152 wraps up, but you don't need to have read the first volume to enjoy this new book. Naturally I'm going recommend you get both, but they each stand well enough on their own. This comic is perfect for fans of fantasy adventures, even if they are not normally into comics, I'm pretty sure Mouse Guard will win them over.
Frostbite – David Wellington is most well known for his zombie (Monster Island) and vampire (13 Bullets) series. Well, this year he released a brutal werewolf novel that certainly gives those other books a run when it comes to action and carnage.
Frostbite is a story about newly turned Cheyenne Clark caught between deadly hunters and the werewolf who infected her with this curse. Which side will she choose in the battle? One thing is for certain, these werewolves are not out chasing sparkling vampires…
Author and Reviewer Alana Abbott Recommends…
Street Magic by Caitlin Kittredge – I wrote a Street Magic review for FlamesRising over the summer, and I have to say, it's still the book that blew me away this year. The plot is engrossing, the world is gritty, and the language is beautiful. Perfect for the dark urban fantasy fan in your life.
The Allie Beckstrom series by Devon Monk – With three novels out now, it's the perfect time to get caught up with the Allie Beckstrom series, another gritty urban fantasy set, where magic has a price, and shadowy figures vie for control over how it's used. Devon Monk's first novel, Magic to the Bone, launched with what I felt was well-deserved hype; the next books have not disappointed me. Definitely an excellent holiday purchase.
Plush Cthulu and Interactive Tribbles – Online stores like Think Geek and Paizo make it easy to purchase the types of plush toys that normally only come out of the dark at conventions. I'm speaking of, of course, the Elder Gods in all their plushie goodness. Cthulhu is available as a stuffed toy in several incarnations, but perhaps even more terrifying are the Interactive Tribbles listed at Think Geek.
I fully acknowledge having been terrified by Furbies as an adult — these little guys are sure to be just as frightening, especially if they multiply as well as their original Star Trek counterparts.
Check out the rest of the Flames Rising Winter Holiday Gift Guides:
Jason's Horror Movie Recommendations
Todd's RPG Recommendations
Steve's Horror Recommendations
Tags | gift guide, mouse guard