Posted on October 9, 2009 by Monica Valentinelli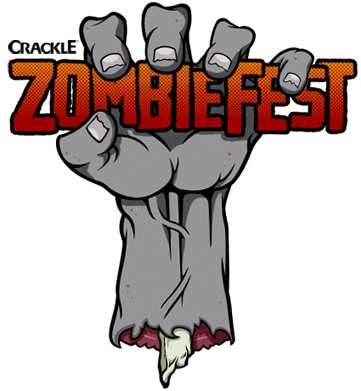 This week, to celebrate Crackle.com's ZombieFest, I decided to check out a few zombie-licious movies. One of the movies is called "FLESH EATER." Now normally, I don't really like a lot of cheese with my zombies, but this was just…too horrifying to watch without cracking up.
Produced in 1988, the film did not date well. Remember acid-washed jean jackets? Green eyeshadow? Big, poofy flower bangs? Yeah, I groaned…. Pacing in the film was set to music. Literally. Full of creepy piano music and *gasp* synthesizer, the plot's pretty simple. Wait for it? Wait for it? Survive the "flesh eater." The main characters die off pretty quickly, because el primo zombie is smarter than his victims. I won't ruin the ending for you, but let's just say that there's a lot of fire and it burns…slowly…
As far as zombies go, these are your standard groaning creep-a-zoids that go after blood and…uh…flesh. Most of the violence is off-screen, so you don't see a lot of guts or gore spilling out like you do in other movies. Would I buy this movie? Probably not. I guess that's why I kind of liked being able to watch it on Crackle.com. It's not a stellar piece of film making that I'd buy on my own, but it did help get me in the mood for Halloween. I mean, come on…a zombie that kills some kids after they go on a spooky hayride? If that doesn't put you in the mood for Trick-or-Treat, I don't know what will.
Speaking of cheese, I also checked out DIE YOU ZOMBIE BASTARDS (DYZB) which is even cheesier than FLESH EATER, if you can believe that. This movie is full of character actors that amp up the gore factor — literally. The evil Baron Nefarious uses a giant ray gun to turn some frightened captives into his sexy zombie minions. (They are very, very green…) Meanwhile, a serial killer named Red Toole and his wife, Violet, are having a grand ole time — until the evil Baron kidnaps Violet. *Cue ominous music.*
To me, this movie is more of a Flash Gordon-meets-Tales From The Crypt. With gratuitous boobs and blood, DYZB is not attempting to take itself seriously. Unlike FLESH EATER, DYZB is intentionally trying to be…stupid. Between the make-up, costuming and the acting, DYZB is so over-the-top, I can't even really call it a "horror" movie. Sure, it has all the right characters to make it into a horror movie, but in my mind there is no mood established. It's almost like, you have to be in that kind of a stupid-silly-zombielicious mood before you watch it.
I actually liked some of the camp in this movie, because it didn't have a big budget. Right off the bat, I didn't have high expectations. As soon as "the evil Baron" showed up, I immediately thought of reading a similar plot from our random horror plot generator. (You should see some of the crazy words we put into it.) Like FLESH EATER, I probably wouldn't pick this film up for my own collection, but if you're in the mood for something different and…stupid? This would definitely be the film for you. (Of course, I could have been just fine without the gratuitous boobage.)
The last film I checked out was called RISING UP: THE STORY OF THE ZOMBIE RIGHTS MOVEMENT. For some, bizarre reason, I'm on this big mockumentary kick so I was pretty interested in seeing it. At less than thirty minutes, I thought this was–by far–the best zombie video I'd seen in a long time. The cinematography has a collage-like feel to it and the voiceover sounds exactly like someone you might hear on the History channel. Because the zombies aren't characters in the film, the mockumentary really hits the proverbial nail on the head when it discusses how society has first feared zombies and then tried to protect them.
Remember, ZombieFest is still going on, so if you're interested in exploring your horizons a bit to search for some new braaaaiiiinnnnnsss, be sure to check them out. Even though I'm more into survival horror, it was kind of nice to break out of my "horror" comfort zone to experiment with a few films I might not normally watch on my own. The best part about watching these zombie films, is that I can tell you with the utmost confidence that I certainly won't have any nightmares tonight.
Tags | horror-comedy, zombie movies, zombies