Posted on October 15, 2021 by Flames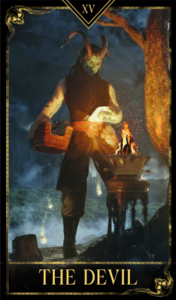 Have you checked out The Red Opera: Deck of Endless Possibilities on Kickstarter yet? This deck of 80-plus cards is an All-In-One Tarot; Playing Card; Spell, Magic Item, Character, Location, and Adventure Deck filled with potential. Brought to you by Apotheosis Studios, this Warlock-inspired deck is filled with details from The Red Opera: Last Days of the Warlock, and includes re-envisioned fan-favorite art for the Major Arcana and all-new illustrations for the Minor Arcana!
FlamesRising.com recently had the opportunity to sit down with the extremely talented Diana Sousa. Based in Portugal, Diana is an Artist and Graphic Designer for Apotheosis Studios. She's the colorist for the CRITICAL ROLE: VOX MACHINA ORIGINS on-going comic book series, as well as the CRITICAL ROLE: THE MIGHTY NEIN ORIGINS: CALEB WIDOGAST and YASHA NYDOORIN graphic novels from Dark Horse Comics. She's also the graphic designer for Apotheosis Studios, where she works on Dungeons and Dragons campaign books and related projects. Find her online at @DianaSousaArt.

1) Diana, you'd mentioned the deck can be used as a traditional set of playing cards, as tarot, and as 5th Edition items, spells, etc. What drove the decision to offer more than one use?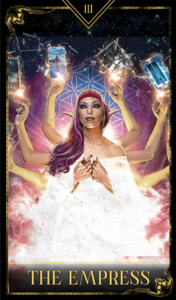 When developing the project it was always our intention to make it work as prompts for roleplaying games as well. We liked the idea of making it even more interactive, and an integral part of the game, so it could be used in several ways for different sorts of games.
While doing research for this project, on the meaning and symbology of each suit, I saw that there's a connection between the suits in tarot, and the suits in a playing cards deck. So I sketched some proposals for the Minor Arcana cards that included these symbols as well: diamonds for coins, clubs for wands, hearts for cups, and spades for swords. So while it wasn't planned from the start, it came naturally to the project and we all decided, as a group, that it only added to the idea of making this deck as versatile as possible!

2) Can you use The Red Opera tarot deck with the warlock-inspired The Red Opera RPG? If so, what's your best tip for GMs?

You definitely can! First, all of the cards are connected to magic items, spells, locations, characters, and story hooks from The Red Opera: Last Days of the Warlock. You can make a reading and use the results to influence your session, or to create a character's backstory, or to guide the intentions behind what a NPC is planning. Or you can shuffle them and pick cards randomly, and use that to affect your story as well.
Included with every deck we have the Storyteller's Quick Reference Guide to the Shadelands, a booklet with more than 160 pages of information – that's 16000+ words! – so players can quickly reference these prompts and include them in their games. If someone has The Red Opera sourcebook they can complement this information even more.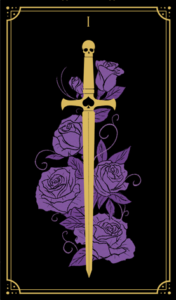 We are also publishing a new one-shot along with the deck, The Red Opera: Forsaken Pacts. This is an adventure that is based around the deck, where the cards themselves, and tarot as a whole, play an essential part of the story. It is also included with every deck, and we are excited to see what people will do with it, and how they'll use these cards in their games!

3) What is the underlying principle behind the card designs? Did you lean into traditional tarot card colors and symbols? Or use something thematically-tied to the Red Opera RPG?

The Red Opera: Last Days of the Warlock has a bold yet simple style for some of its illustrations, specially the cover of the special editions. Black (lots of it), red, and gold. There are also sketches inside the book that only have one color. So I took that as inspiration, added the traditional tarot symbols, studied several other tarot decks, and went from there.
The story in our RPG book is dark, but also romantic, grandiose. We knew we wanted to include gold foil in all the cards, so the rest of the colors had to work with that. Our Major Arcana cards have full color illustrations from the book, but for the Minor Arcana I designed completely new illustrations. For that, each symbol is in gold foil, and the additional illustrations have colors that made sense in the world of The Red Opera: blue for coins, or the hands that hold said coins (because of Majin, an important character in the book, and the narrator of our Storyteller's Quick Reference Guide), green for wands (spells), red for cups (blood), and purple for swords (flowers). One color for each suit, so they can be easily recognized and understood, while the symbols and their numbers stand out in gold foil.
Finally, our Jacks, Knights, Queens, and Kings are made in that sketch style I mentioned before. This is a modern deck of tarot, definitely, but with some inspiration from traditional textures, designs, and symbols.

4) Will you also offer a Red Opera-specific tarot card spread?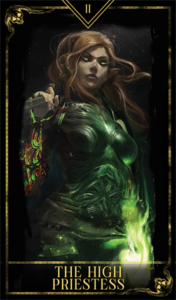 This is definitely something we have in our plans! We want to do it right, so we're consulting experts on tarot and doing our research to make sure it's done correctly. Stay tuned to our Kickstarter page for news on that front soon!

5) Anything else we should know?

One of those experts is Monica Valentinelli (thank you, Monica!), who provided invaluable suggestions and insight. For example, the design on the back of our cards was done so it's symmetrical, and will hide if the cards are inverted or not until it's time to reveal them.
When it comes to the prompts, the cards have different meanings and connections whether they're inverted or not, to bring an even more dynamic experience to this deck.
We also have a tarot cloth exclusive to this deck, and so many other things – Dice! A fully illustrated box! Your own character as a Major Arcana card! – that we are excited to share with everyone. We passionately believe in gaming, and also in the combination of TTRPGs with other areas of interest and passions, and so we hope this tarot deck brings as much joy to players, and to tarot readers, as it brought to us as we worked on it!

FlamesRising.com would like to thank Diana for her time and her generous offer to preview card art. All of the card art in this interview was provided by Apotheosis Studios, and is featured in the deck.
To follow Diana's work, find her on Twitter @DianaSousaArt, The Red Opera: Deck of Endless Possibilities on Kickstarter, or visit Apotheosis Studios to admire and check out the titles she mentioned!
This interview was conducted by FlamesRising.com's project manager, Monica Valentinelli.


Tags | Artists, dark-fantasy, horror art, interview, tarot, ttrpgs